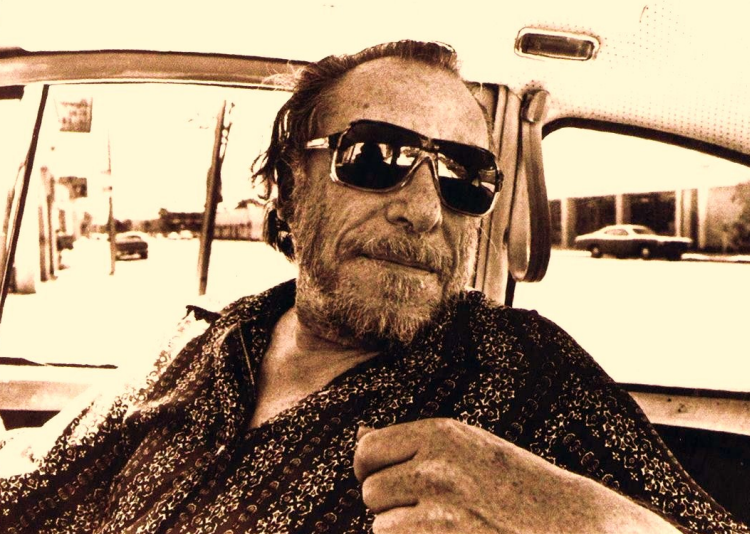 "Some people never go crazy. What truly horrible lives they must lead."
― Charles Bukowski
Wikipedia:
Born
Heinrich Karl Bukowski
August 16, 1920
Andernach, Rhineland-Palatinate, Germany
Died
March 9, 1994 (aged 73)
San Pedro, Los Angeles, U.S.
Occupation
Poet, novelist, short story writer, and columnist
Nationality
German-American
Literary movement
Dirty realism,

 

Transgressive fiction
–
Henry Charles Bukowski (born Heinrich Karl Bukowski; August 16, 1920 – March 9, 1994) was a German-born American poet, novelist, and short story writer.
His writing was influenced by the social, cultural, and economic ambience of his home city of Los Angeles. His work addresses the ordinary lives of poor Americans, the act of writing, alcohol, relationships with women, and the drudgery of work. Bukowski wrote thousands of poems, hundreds of short stories and six novels, eventually publishing over sixty books. The FBI kept a file on him as a result of his column, Notes of a Dirty Old Man, in the LA underground newspaper Open City.
In 1986 Time called Bukowski a "laureate of American lowlife". Regarding Bukowski's enduring popular appeal, Adam Kirsch of The New Yorker wrote, "the secret of Bukowski's appeal. . . [is that] he combines the confessional poet's promise of intimacy with the larger-than-life aplomb of a pulp-fiction hero."
Bukowski: Born Into This, a film documenting the author's life, was released in 2003. It features contributions from Sean Penn, Tom Waits, Harry Dean Stanton and Bono.
Bukowski: Born into This



–
Charles Bukowski quotes
"Do you hate people?

I don't hate them…I just feel better when they're not around."
― Charles Bukowski, Barfly

–

"For those who believe in God, most of the big questions are answered. But for those of us who can't readily accept the God formula, the big answers don't remain stone-written. We adjust to new conditions and discoveries. We are pliable. Love need not be a command nor faith a dictum. I am my own god. We are here to unlearn the teachings of the church, state, and our educational system. We are here to drink beer. We are here to kill war. We are here to laugh at the odds and live our lives so well that Death will tremble to take us."

–

"Sometimes you climb out of bed in the morning and you think, I'm not going to make it, but you laugh inside — remembering all the times you've felt that way."

–

"I've never been lonely. I've been in a room — I've felt suicidal. I've been depressed. I've felt awful — awful beyond all — but I never felt that one other person could enter that room and cure what was bothering me…or that any number of people could enter that room. In other words, loneliness is something I've never been bothered with because I've always had this terrible itch for solitude. It's being at a party, or at a stadium full of people cheering for something, that I might feel loneliness. I'll quote Ibsen, "The strongest men are the most alone." I've never thought, "Well, some beautiful blonde will come in here and give me a fuck-job, rub my balls, and I'll feel good." No, that won't help. You know the typical crowd, "Wow, it's Friday night, what are you going to do? Just sit there?" Well, yeah. Because there's nothing out there. It's stupidity. Stupid people mingling with stupid people. Let them stupidify themselves. I've never been bothered with the need to rush out into the night. I hid in bars, because I didn't want to hide in factories. That's all. Sorry for all the millions, but I've never been lonely. I like myself. I'm the best form of entertainment I have. Let's drink more wine!"

–

"what matters most is how well you walk through the fire"

–

"We're all going to die, all of us, what a circus! That alone should make us love each other but it doesn't. We are terrorized and flattened by trivialities, we are eaten up by nothing."

–

"If you're going to try, go all the way. Otherwise, don't even start. This could mean losing girlfriends, wives, relatives and maybe even your mind. It could mean not eating for three or four days. It could mean freezing on a park bench. It could mean jail. It could mean derision. It could mean mockery–isolation. Isolation is the gift. All the others are a test of your endurance, of how much you really want to do it. And, you'll do it, despite rejection and the worst odds. And it will be better than anything else you can imagine. If you're going to try, go all the way. There is no other feeling like that. You will be alone with the gods, and the nights will flame with fire. You will ride life straight to perfect laughter. It's the only good fight there is."
― Charles Bukowski, Factotum

–

"You have to die a few times before you can really live."
― Charles Bukowski, The People Look Like Flowers at Last

–

"That's the problem with drinking, I thought, as I poured myself a drink. If something bad happens you drink in an attempt to forget; if something good happens you drink in order to celebrate; and if nothing happens you drink to make something happen."
― Charles Bukowski, Women

–

"An intellectual says a simple thing in a hard way. An artist says a hard thing in a simple way."

–

"The problem with the world is that the intelligent people are full of doubts, while the stupid ones are full of confidence."

–

"If you're losing your soul and you know it, then you've still got a soul left to lose"

–

"the free soul is rare, but you know it when you see it – basically because you feel good, very good, when you are near or with them."
― Charles Bukowski, Tales of Ordinary Madness

–

"being alone never felt right. sometimes it felt good, but it never felt right."
― Charles Bukowski, Women

–

"Sometimes you just have to pee in the sink."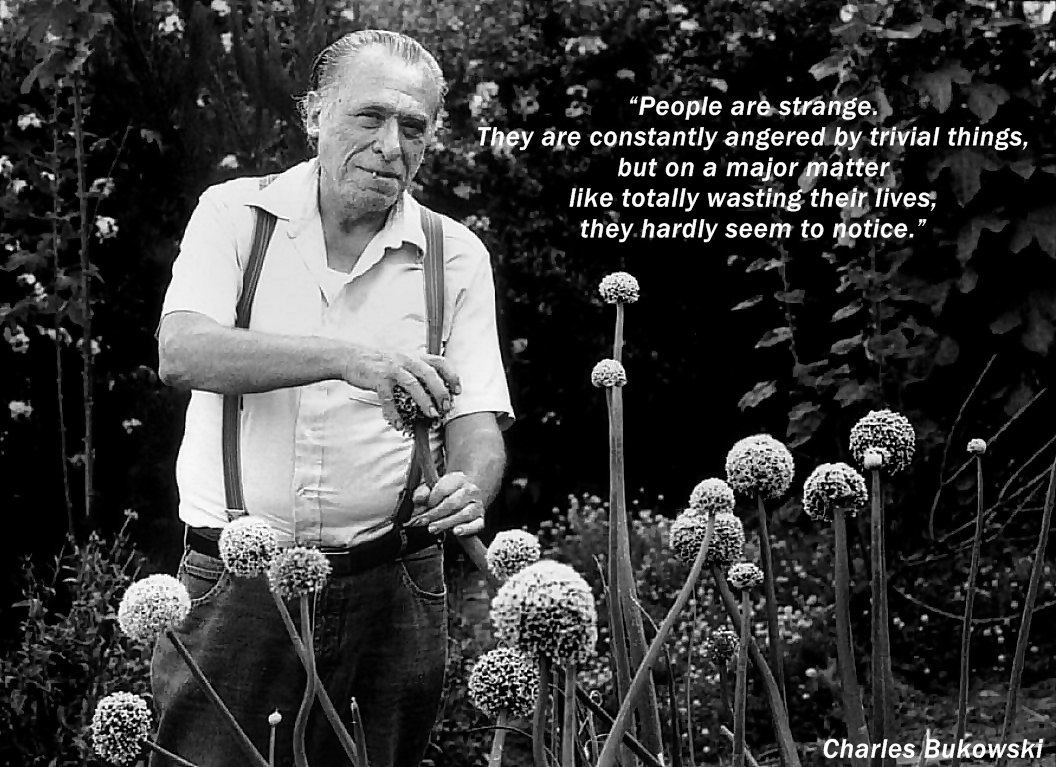 –
Check out: