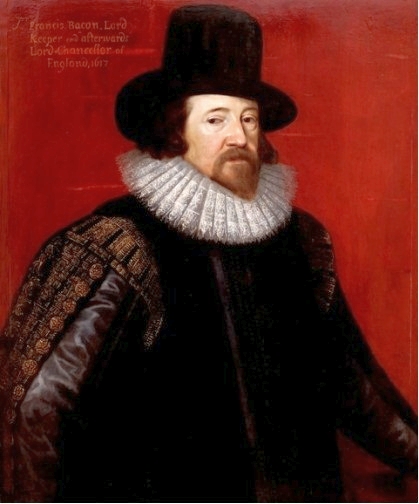 "Some books should be tasted, some devoured, but only a few should be chewed and digested thoroughly."
― Francis Bacon

–

"If a man will begin with certainties, he shall end in doubts; but if he will be content to begin with doubts, he shall end in certainties."
― Francis Bacon, The Advancement Of Learning
Wikipedia:
Francis Bacon, 1st Viscount St Alban (22 January 1561 – 9 April 1626) was an English philosopher, statesman, scientist, jurist, orator, and author. He served both as Attorney General and Lord Chancellor of England. After his death, he remained extremely influential through his works, especially as philosophical advocate and practitioner of the scientific method during the scientific revolution.
Bacon has been called the father of empiricism. His works argued for the possibility of scientific knowledge based only uponinductive and careful observation of events in nature. Most importantly, he argued this could be achieved by use of a skeptical and methodical approach whereby scientists aim to avoid misleading themselves. While his own practical ideas about such a method, the Baconian method, did not have a long lasting influence, the general idea of the importance and possibility of a skeptical methodology makes Bacon the father of scientific method. This marked a new turn in the rhetorical and theoretical framework for science, the practical details of which are still central in debates about science and methodology today.
Bacon was generally neglected at court by Queen Elizabeth, but after the ascension of King James I in 1603, Bacon was knighted. He was later created Baron Verulam in 1618 and Viscount St. Alban in 1621. Because he had no heirs, both titles became extinct upon his death in 1626, at 65 years of age. Bacon died of pneumonia, with one account by John Aubrey stating that he had contracted the condition while studying the effects of freezing on the preservation of meat.
–
Will Durant—The Philosophy of Francis Bacon (audio – 1h 43m):

–
Quotes
"Hope is a good breakfast, but it is a bad supper."
― Francis Bacon

–

"A wise man will make more opportunities than he finds."
― Francis Bacon, The Essays

–

"There is no exquisite beauty… without some strangeness in the proportion."
― Francis Bacon

–

"Read not to contradict and confute; nor to believe and take for granted; nor to find talk and discourse; but to weigh and consider. Some books are to be tasted, others to be swallowed, and some few to be chewed and digested: that is, some books are to be read only in parts, others to be read, but not curiously, and some few to be read wholly, and with diligence and attention."
― Francis Bacon, The Essays

–

"Imagination was given to man to compensate him for what he is not; a sense of humor to console him for what he is."
― Francis Bacon

–

"Reading maketh a full man; and writing an axact man. And, therefore, if a man write little, he need have a present wit; and if he read little, he need have much cunning to seem to know which he doth not."
― Francis Bacon

–

"Wonder is the seed of knowledge"
― Francis Bacon

–

"Man prefers to believe what he prefers to be true."
― Francis Bacon

–

"It is a sad fate for a man to die too well known to everybody else, and still unknown to himself."
― Francis Bacon

–

"Begin doing what you want to do now. We are not living in eternity. We have only this moment, sparkling like a star in our hand–and melting like a snowflake…"
― Francis Bacon

–

"Money is a great servant but a bad master."
― Francis Bacon

–

"The job of the artist is always to deepen the mystery."
― Francis Bacon

–

"In order for the light to shine so brightly, the darkness must be present."
― Francis Bacon

–

"Age appears best in four things: old wood to burn, old wine to drink, old friends to trust and old authors to read."
― Francis Bacon