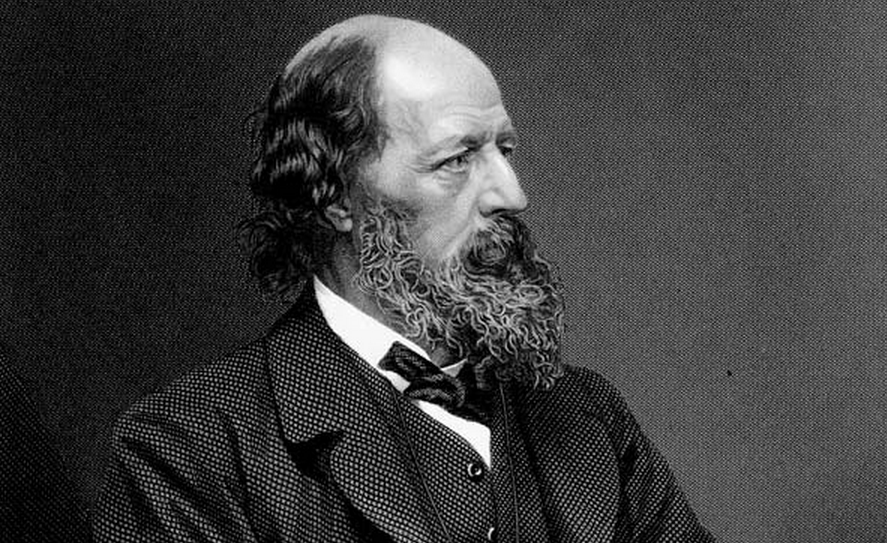 "Tis better to have loved and lost
Than never to have loved at all."
― Alfred Lord Tennyson, In Memoriam
Wikipedia:
Born
6 August 1809
Somersby, Lincolnshire, England
Died
6 October 1892 (aged 83)
Lurgashall, Sussex, England
Occupation
Poet Laureate
Alma mater
Cambridge University
Spouse
Emily Sellwood (m. 1850)
Children

Hallam Tennyson, 2nd Baron Tennyson
Hon. Lionel Tennyson
–
Alfred Tennyson, 1st Baron Tennyson, FRS (6 August 1809 – 6 October 1892) was Poet Laureate of Great Britain and Ireland during much of Queen Victoria's reign and remains one of the most popular British poets.
Tennyson excelled at penning short lyrics, such as "Break, Break, Break", "The Charge of the Light Brigade", "Tears, Idle Tears" and "Crossing the Bar". Much of his verse was based on classical mythological themes, such as Ulysses, although In Memoriam A.H.H. was written to commemorate his friend Arthur Hallam, a fellow poet and student at Trinity College, Cambridge, after he died of a stroke aged just 22. Tennyson also wrote some notable blank verse including Idylls of the King, "Ulysses", and "Tithonus". During his career, Tennyson attempted drama, but his plays enjoyed little success.
A number of phrases from Tennyson's work have become commonplaces of the English language, including
"Nature, red in tooth and claw" (In Memoriam A.H.H.)
"'Tis better to have loved and lost / Than never to have loved at all"
"Theirs not to reason why, / Theirs but to do and die"
"My strength is as the strength of ten, / Because my heart is pure"
"To strive, to seek, to find, and not to yield"
"Knowledge comes, but Wisdom lingers"
"The old order changeth, yielding place to new"
He is the ninth most frequently quoted writer in The Oxford Dictionary of Quotations.
–
Videos/Audio
Alfred Lord Tennyson – The Circle of the Hills – Documentary

–
The Charge of the Light Brigade audiobook Alfred, Lord Tennyson

–
Quotes
"Be near me when my light is low,
When the blood creeps, and the nerves prick
And tingle; and the heart is sick,
And all the wheels of Being slow.

Be near me when the sensuous frame
Is rack'd with pangs that conquer trust;
And Time, a maniac scattering dust,
And Life, a fury slinging flame.

Be near me when my faith is dry,
And men the flies of latter spring,
That lay their eggs, and sting and sing
And weave their petty cells and die.

Be near me when I fade away,
To point the term of human strife,
And on the low dark verge of life
The twilight of eternal day."
― Alfred Lord Tennyson, In Memoriam

–

The happiness of a man in this life does not consist in the absence but in the mastery of his passions.
~Alfred Lord Tennyson

–

Self-reverence, self-knowledge, self-control; these three alone lead one to sovereign power.
~Alfred Lord Tennyson

–

I must lose myself in action, lest I wither in despair.
~Alfred Lord Tennyson

–

Shape your heart to front the hour, but dream not that the hours will last.
~Alfred Lord Tennyson

–

My strength is as the strength of ten, because my heart is pure.
~Alfred Lord Tennyson

–

By blood a king, in heart a clown.
~Alfred Lord Tennyson

–

We cannot be kind to each other here for even an hour. We whisper, and hint, and chuckle and grin at our brother's shame; however you take it we men are a little breed.
~Alfred Lord Tennyson

–

"Ring out the old, ring in the new,
Ring, happy bells, across the snow:
The year is going, let him go;
Ring out the false, ring in the true."
― Alfred Lord Tennyson, In Memoriam

–

"I sometimes find it half a sin,
To put to words the grief i feel,
For words like nature,half reveal,
and half conceal the soul within,"
― Alfred Lord Tennyson, In Memoriam

–

"I hold it truth, with him who sings
To one clear harp in divers tones,
That men may rise on stepping-stones
Of their dead selves to higher things."
― Alfred Lord Tennyson, In Memoriam

–