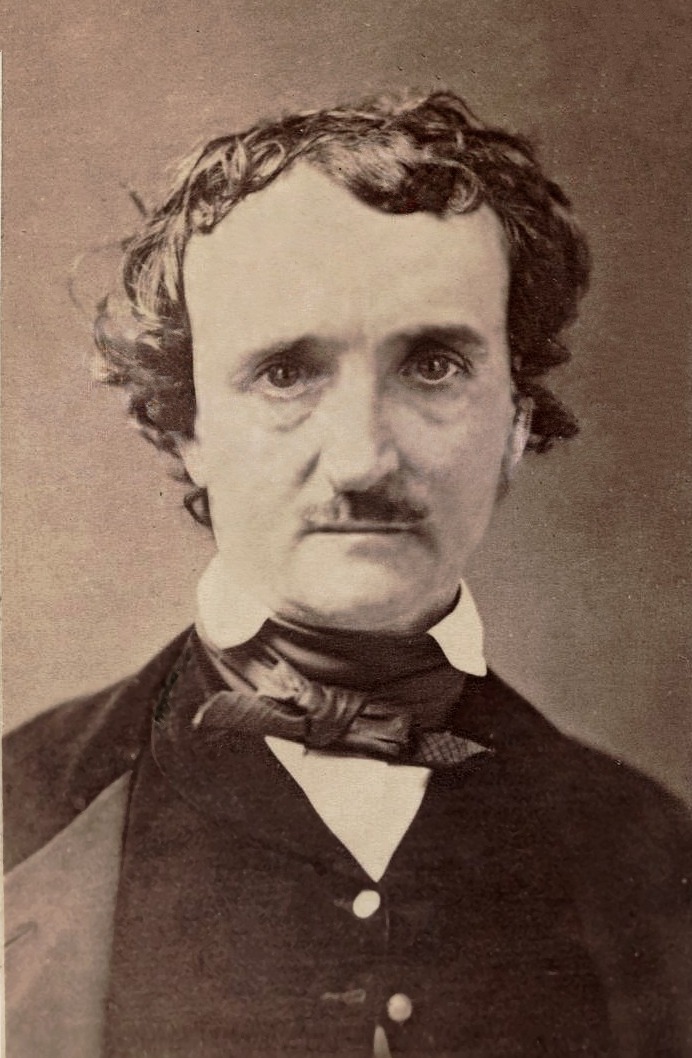 "I became insane, with long intervals of horrible sanity."
― Edgar Allan Poe
Wikipedia:
Edgar Allan Poe (born Edgar Poe; January 19, 1809 – October 7, 1849) was an American author, poet, editor, and literary critic, widely regarded as a central figure of Romanticism in the United States and American literature as a whole. Best known for his tales of mystery and the macabre, Poe was one of the earliest American practitioners of the short story, and is generally considered the inventor of the detective fiction genre. He is further credited with contributing to the emerging genre of science fiction. He was the first well-known American writer to try to earn a living through writing alone, resulting in a financially difficult life and career.
Born in Boston, Poe was the second child of two actors. His father abandoned the family in 1810, and his mother died the following year. Thus orphaned, the child was taken in by John and Frances Allan, of Richmond, Virginia. Although they never formally adopted him, Poe was with them well into young adulthood. Tension developed later as John Allan and Edgar repeatedly clashed over debts, including those incurred by gambling, and the cost of secondary education for the young man. Poe attended the University of Virginia for one semester but left due to lack of money. Poe quarreled with Allan over the funds for his education and enlisted in the Army in 1827 under an assumed name. It was at this time his publishing career began, albeit humbly, with an anonymous collection of poems, Tamerlane and Other Poems (1827), credited only to "a Bostonian". With the death of Frances Allan in 1829, Poe and Allan reached a temporary rapprochement. Later failing as an officer's cadet at West Point and declaring a firm wish to be a poet and writer, Poe parted ways with John Allan.
Poe switched his focus to prose and spent the next several years working for literary journals and periodicals, becoming known for his own style of literary criticism. His work forced him to move among several cities, including Baltimore, Philadelphia, and New York City. In Baltimore in 1835, he married Virginia Clemm, his 13-year-old cousin. In January 1845 Poe published his poem, "The Raven", to instant success. His wife died of tuberculosis two years after its publication. For years, he had been planning to produce his own journal, The Penn (later renamed The Stylus), though he died before it could be produced. On October 7, 1849, at age 40, Poe died in Baltimore; the cause of his death is unknown and has been variously attributed to alcohol, brain congestion, cholera, drugs, heart disease, rabies, suicide, tuberculosis, and other agents.
Poe and his works influenced literature in the United States and around the world, as well as in specialized fields, such as cosmology and cryptography. Poe and his work appear throughout popular culture in literature, music, films, and television. A number of his homes are dedicated museums today. The Mystery Writers of America present an annual award known as the Edgar Award for distinguished work in the mystery genre.
–
Quotes
Beauty of whatever kind, in its supreme development, invariably excites the sensitive soul to tears.
Edgar Allan Poe

–

"All that we see or seem is but a dream within a dream."
― Edgar Allan Poe

–

"We loved with a love that was more than love."
― Edgar Allan Poe

–

"Those who dream by day are cognizant of many things which escape those who dream only by night."
― Edgar Allan Poe, Eleonora

–

"I have great faith in fools – self-confidence my friends will call it."
― Edgar Allan Poe, Marginalia

–

"I was never really insane except upon occasions when my heart was touched."
― Edgar Allan Poe

–

"There is no exquisite beauty… without some strangeness in the proportion."
― Edgar Allan Poe

–

"I have absolutely no pleasure in the stimulants in which I sometimes so madly indulge. It has not been in the pursuit of pleasure that I have periled life and reputation and reason. It has been the desperate attempt to escape from torturing memories, from a sense of insupportable loneliness and a dread of some strange impending doom."
― Edgar Allan Poe

–

"Believe only half of what you see and nothing that you hear."
― Edgar Allan Poe

–

"From childhood's hour I have not been. As others were, I have not seen. As others saw, I could not awaken. My heart to joy at the same tone. And all I loved, I loved alone."
― Edgar Allan Poe

–

"Years of love have been forgot, In the hatred of a minute."
― Edgar Allan Poe, The Complete Stories and Poems

–

"All religion, my friend, is simply evolved out of fraud, fear, greed, imagination, and poetry."
― Edgar Allan Poe

–

"If you wish to forget anything on the spot, make a note that this thing is to be remembered."
― Edgar Allan Poe

–

"I wish I could write as mysterious as a cat."
― Edgar Allan Poe

–

"The best things in life make you sweaty."
― Edgar Allan Poe

–

"I felt that I breathed an atmosphere of sorrow."
― Edgar Allan Poe

–

"I have no faith in human perfectibility. I think that human exertion will have no appreciable effect upon humanity. Man is now only more active – not more happy – nor more wise, than he was 6000 years ago."
― Edgar Allan Poe

–

"Science has not yet taught us if madness is or is not the sublimity of the intelligence."
― Edgar Allan Poe
–
The Raven
"The Raven" is a narrative poem by American writer Edgar Allan Poe. First published in January 1845, the poem is often noted for its musicality, stylized language, and supernatural atmosphere. It tells of a talking raven's mysterious visit to a distraught lover, tracing the man's slow fall into madness. The lover, often identified as being a student, is lamenting the loss of his love, Lenore. Sitting on a bust of Pallas, the raven seems to further instigate his distress with its constant repetition of the word "Nevermore". The poem makes use of a number of folk, mythological, religious, and classical references.
Its publication made Poe widely popular in his lifetime, although it did not bring him much financial success. The poem was soon reprinted, parodied, and illustrated. Critical opinion is divided as to the poem's literary status, but it nevertheless remains one of the most famous poems ever written.
"Once upon a midnight dreary, while I pondered, weak and weary,
Over many a quaint and curious volume of forgotten lore,
While I nodded, nearly napping, suddenly there came a tapping,
As of some one gently rapping, rapping at my chamber door.
Tis some visitor," I muttered, "tapping at my chamber door —
Only this, and nothing more."

Ah, distinctly I remember it was in the bleak December,
And each separate dying ember wrought its ghost upon the floor.
Eagerly I wished the morrow; — vainly I had sought to borrow
From my books surcease of sorrow — sorrow for the lost Lenore —
For the rare and radiant maiden whom the angels name Lenore —
Nameless here for evermore.

And the silken sad uncertain rustling of each purple curtain
Thrilled me — filled me with fantastic terrors never felt before;
So that now, to still the beating of my heart, I stood repeating,
Tis some visitor entreating entrance at my chamber door —
Some late visitor entreating entrance at my chamber door; —
This it is, and nothing more."

Presently my soul grew stronger; hesitating then no longer,
Sir," said I, "or Madam, truly your forgiveness I implore;
But the fact is I was napping, and so gently you came rapping,
And so faintly you came tapping, tapping at my chamber door,
That I scarce was sure I heard you"— here I opened wide the door; —
Darkness there, and nothing more.

Deep into that darkness peering, long I stood there wondering, fearing,
Doubting, dreaming dreams no mortals ever dared to dream before;
But the silence was unbroken, and the stillness gave no token,
And the only word there spoken was the whispered word, "Lenore?"
This I whispered, and an echo murmured back the word, "Lenore!" —
Merely this, and nothing more.

Back into the chamber turning, all my soul within me burning,
Soon again I heard a tapping somewhat louder than before.
Surely," said I, "surely that is something at my window lattice:
Let me see, then, what thereat is, and this mystery explore —
Let my heart be still a moment and this mystery explore; —
'Tis the wind and nothing more."

Open here I flung the shutter, when, with many a flirt and flutter,
In there stepped a stately raven of the saintly days of yore;
Not the least obeisance made he; not a minute stopped or stayed he;
But, with mien of lord or lady, perched above my chamber door —
Perched upon a bust of Pallas just above my chamber door —
Perched, and sat, and nothing more.

Then this ebony bird beguiling my sad fancy into smiling,
By the grave and stern decorum of the countenance it wore.
Though thy crest be shorn and shaven, thou," I said, "art sure no craven,
Ghastly grim and ancient raven wandering from the Nightly shore —
Tell me what thy lordly name is on the Night's Plutonian shore!"
Quoth the Raven, "Nevermore."

Much I marveled this ungainly fowl to hear discourse so plainly,
Though its answer little meaning— little relevancy bore;
For we cannot help agreeing that no living human being
Ever yet was blest with seeing bird above his chamber door —
Bird or beast upon the sculptured bust above his chamber door,
With such name as "Nevermore."
― Edgar Allan Poe, The Raven
–
Videos
Edgar Allan Poe Documentary

–
Edgar Allan Poe's THE RAVEN

–
SIX CREEPY TALES by Edgar Allan Poe – FULL AudioBook | Greatest Audio Books
Chapter listing and length:
1 – The Telltale Heart — 00:16:47
2 – The Masque of the Red Death — 00:18:27
3 – The Black Cat — 00:29:54
4 – The Raven — 00:09:28
5 – The Casque of Amontillado — 00:18:28
6 – Berenice — 00:26:52
Total running time: 1:59:56
Read by Phil Chenevert

–