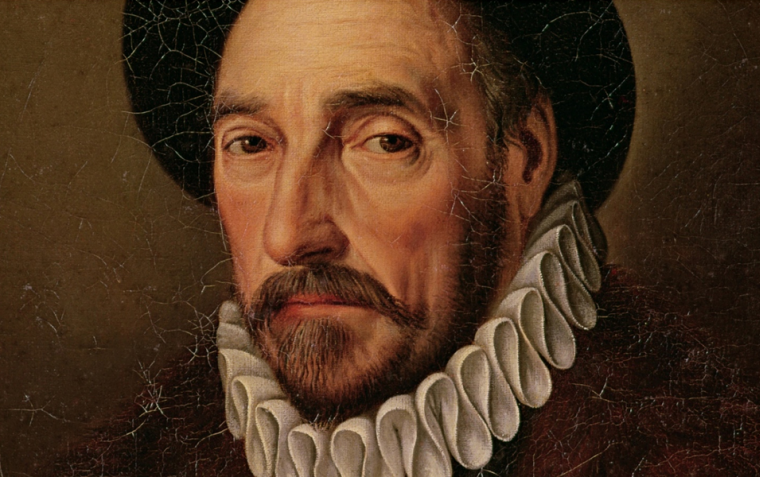 "The most certain sign of wisdom is cheerfulness. "
― Michel de Montaigne
Wikipedia:
Born

Michel Eyquem de Montaigne


28 February 1533


Château de Montaigne, Guyenne, France

Died
13 September 1592 (aged 59)


Château de Montaigne, Guyenne, France

Religion
Roman Catholic
Era
Renaissance philosophy
Region
Western Philosophy
School
Renaissance humanism
Renaissance skepticism

Notable ideas

The essay,
Montaigne's wheel argument
Signature
Michel Eyquem de Montaigne (28 February 1533 – 13 September 1592) was one of the most significant philosophers of the French Renaissance, known for popularizing the essay as a literary genre. His work is noted for its merging of casual anecdotes and autobiography with serious intellectual insight; his massive volume Essais (translated literally as "Attempts" or "Trials") contains some of the most influential essays ever written. Montaigne had a direct influence on writers all over the world, including Francis Bacon, René Descartes, Blaise Pascal, Jean-Jacques Rousseau, Albert Hirschman, William Hazlitt, Ralph Waldo Emerson, Friedrich Nietzsche, Stefan Zweig, Eric Hoffer, Isaac Asimov, and possibly on the later works of William Shakespeare.
In his own lifetime, Montaigne was admired more as a statesman than as an author. The tendency in his essays to digress into anecdotes and personal ruminations was seen as detrimental to proper style rather than as an innovation, and his declaration that, 'I am myself the matter of my book', was viewed by his contemporaries as self-indulgent. In time, however, Montaigne would come to be recognized as embodying, perhaps better than any other author of his time, the spirit of freely entertaining doubt which began to emerge at that time. He is most famously known for his skeptical remark, "Que sçay-je?" ("What do I know?", in Middle French; directly rendered Que sais-je? in modern French). Remarkably modern even to readers today, Montaigne's attempt to examine the world through the lens of the only thing he can depend on implicitly—his own judgment—makes him more accessible to modern readers than any other author of the Renaissance. Much of modern literary non-fiction has found inspiration in Montaigne and writers of all kinds continue to read him for his masterful balance of intellectual knowledge and personal storytelling.
–
PHILOSOPHY – Montaigne

–
Montaigne on Self-Esteem – Philosophy: A Guide to Happiness:

–
Quotes
"On the highest throne in the world, we still sit only on our own bottom."
― Michel de Montaigne, The Complete Essays

–

"The greatest thing in the world is to know how to belong to oneself."
― Michel de Montaigne, The Complete Essays

–

"I do not care so much what I am to others as I care what I am to myself."
― Michel de Montaigne

–

"I quote others only in order the better to express myself."
― Michel de Montaigne, The Complete Essays

–

"When I am attacked by gloomy thoughts, nothing helps me so much as running to my books. They quickly absorb me and banish the clouds from my mind."
― Michel de Montaigne, Les Essais

–

"He who fears he shall suffer, already suffers what he fears."
― Michel de Montaigne, The Complete Essays

–

"Learned we may be with another man's learning: we can only be wise with wisdom of our own."
― Michel de Montaigne, The Complete Essays

–

"Nothing fixes a thing so intensely in the memory as the wish to forget it."
― Michel de Montaigne

–

"There is nothing more notable in Socrates than that he found time, when he was an old man, to learn music and dancing, and thought it time well spent."
― Michel de Montaigne, The Complete Essays

–

"I am afraid that our eyes are bigger than our stomachs, and that we have more curiosity than understanding. We grasp at everything, but catch nothing except wind."
― Michel de Montaigne, The Complete Essays

–

"Nothing is so firmly believed as that which we least know."
― Michel de Montaigne, The Complete Essays

–

"I prefer the company of peasants because they have not been educated sufficiently to reason incorrectly."
― Michel de Montaigne

–

Obsession is the wellspring of genius and madness."
― Michel de Montaigne

–

"To compose our character is our duty, not to compose books, and to win, not battles and provinces, but order and tranquility in our conduct. Our great and glorious masterpiece is to live appropriately. All other things, ruling, hoarding, building, are only little appendages and props, at most."
― Michel de Montaigne

–

"Let us give Nature a chance; she knows her business better than we do."
― Michel de Montaigne, Montaigne: Essays

–

"My art and profession is to live."
― Michel de Montaigne

–

"I speak the truth, not so much as I would, but as much as I dare; and I dare a little more as I grow older."
― Michel de Montaigne

–

"The greater part of the world's troubles are due to questions of grammar."
― Michel de Montaigne, The Complete Essays

–

"To begin depriving death of its greatest advantage over us, let us adopt a way clean contrary to that common one; let us deprive death of its strangeness, let us frequent it, let us get used to it; let us have nothing more often in mind than death… We do not know where death awaits us: so let us wait for it everywhere."

"To practice death is to practice freedom. A man who has learned how to die has unlearned how to be a slave."
― Michel de Montaigne