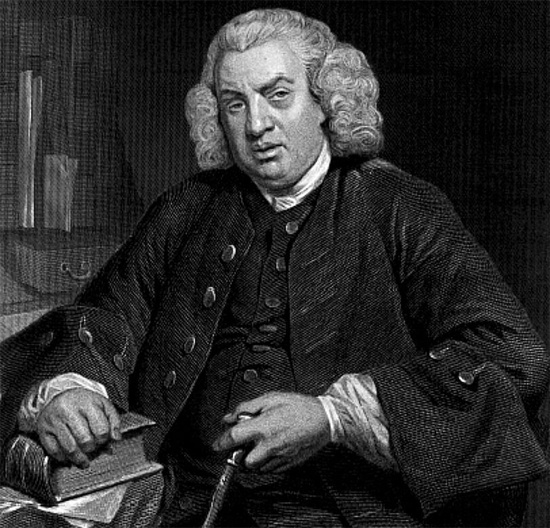 "Curiosity is, in great and generous minds, the first passion and the last."
― Samuel Johnson, Works of Samuel Johnson
Wikipedia:
Born

18 September 1709


(O.S. 7 September)
Lichfield, Staffordshire, England
Died

13 December 1784

(aged 75)
London
Occupation
Essayist, lexicographer, biographer, poet
Language
English
Nationality
British
Ethnicity
English
Spouse
Elizabeth Porter (née Jervis)
Samuel Johnson (18 September 1709 [O.S. 7 September] – 13 December 1784), often referred to as Dr Johnson, was an English writer who made lasting contributions to English literature as a poet, essayist, moralist, literary critic, biographer, editor and lexicographer. Johnson was a devout Anglican and committed Tory, and has been described as "arguably the most distinguished man of letters in English history". He is also the subject of "the most famous single work of biographical art in the whole of literature": James Boswell's Life of Samuel Johnson.
Born in Lichfield, Staffordshire, Johnson attended Pembroke College, Oxford for just over a year, before his lack of funds forced him to leave. After working as a teacher he moved to London, where he began to write for The Gentleman's Magazine. His early works include the biography Life of Mr Richard Savage, the poems London and The Vanity of Human Wishes, and the play Irene.
After nine years of work, Johnson's A Dictionary of the English Language was published in 1755. It had a far-reaching effect on Modern English and has been described as "one of the greatest single achievements of scholarship". This work brought Johnson popularity and success. Until the completion of the Oxford English Dictionary 150 years later, Johnson's was viewed as the pre-eminent British dictionary. His later works included essays, an influential annotated edition ofThe Plays of William Shakespeare, and the widely read tale The History of Rasselas, Prince of Abissinia. In 1763, he befriended James Boswell, with whom he later travelled to Scotland; Johnson described their travels in A Journey to the Western Islands of Scotland. Towards the end of his life, he produced the massive and influential Lives of the Most Eminent English Poets, a collection of biographies and evaluations of 17th- and 18th-century poets.
Johnson was a tall and robust man. His odd gestures and tics were disconcerting to some on first meeting him. Boswell's Life, along with other biographies, documented Johnson's behaviour and mannerisms in such detail that they have informed the posthumous diagnosis of Tourette syndrome, a condition not defined or diagnosed in the 18th century. After a series of illnesses, he died on the evening of 13 December 1784, and was buried in Westminster Abbey. In the years following his death, Johnson began to be recognised as having had a lasting effect on literary criticism, and he was claimed by some to be the only truly great critic of English literature.
–
[BBC 4] Samuel Johnson: The Dictionary Man (59min)

–
Will Durant—The Life of Samuel Johnson (90min audio)

–
Quotes
"Men know that women are an overmatch for them, and therefore they choose the weakest or the most ignorant. If they did not think so, they never could be afraid of women knowing as much as themselves."
― Samuel Johnson, A Journey to the Western Islands of Scotland and The Journal of a Tour to the Hebrides

–

"I hate mankind, for I think myself one of the best of them, and I know how bad I am."

–

"He who makes a beast of himself gets rid of the pain of being a man."

–

"A writer only begins a book. A reader finishes it."

–

"What is written without effort is in general read without pleasure."

–

"My congratulations to you, sir. Your manuscript is both good and original; but the part that is good is not original, and the part that is original is not good. "

–

"Sir, when a man is tired of London, he is tired of life; for there is in London all that life can afford."

–

"Curiosity is one of the permanent and certain characteristics of a vigorous intellect."

–

"I never desire to converse with a man who has written more than he has read."

–

"There can be no friendship without confidence, and no confidence without integrity."

–

"Few things are impossible to diligence and skill. Great works are performed not by strength, but by perseverance."

–

"I would rather be attacked than unnoticed. For the worst thing you can do to an author is to be silent as to his works."

–

"The chains of habit are too weak to be felt until they are too strong to be broken."

–

"Integrity without knowledge is weak and useless, and knowledge without integrity is dangerous and dreadful."

–

"It is better to suffer wrong than to do it, and happier to be sometimes cheated than not to trust."

–

"You raise your voice when you should reinforce your argument."

–

"Hell is paved with good intentions."

–

"The greatest part of a writer's time is spent in reading, in order to write: a man will turn over half a library to make one book."

–

"Allow children to be happy in their own way, for what better way will they find?"

–

"It is necessary to hope… for hope itself is happiness."

–

"What we hope ever to do with ease, we must first learn to do with diligence."

–

"Knowledge is of two kinds. We know a subject ourselves, or we know where we can find information on it."

–

"To keep your secret is wisdom, but to expect others to keep it is folly."

–

"Nothing […] will ever be attempted, if all possible objections must be first overcome."