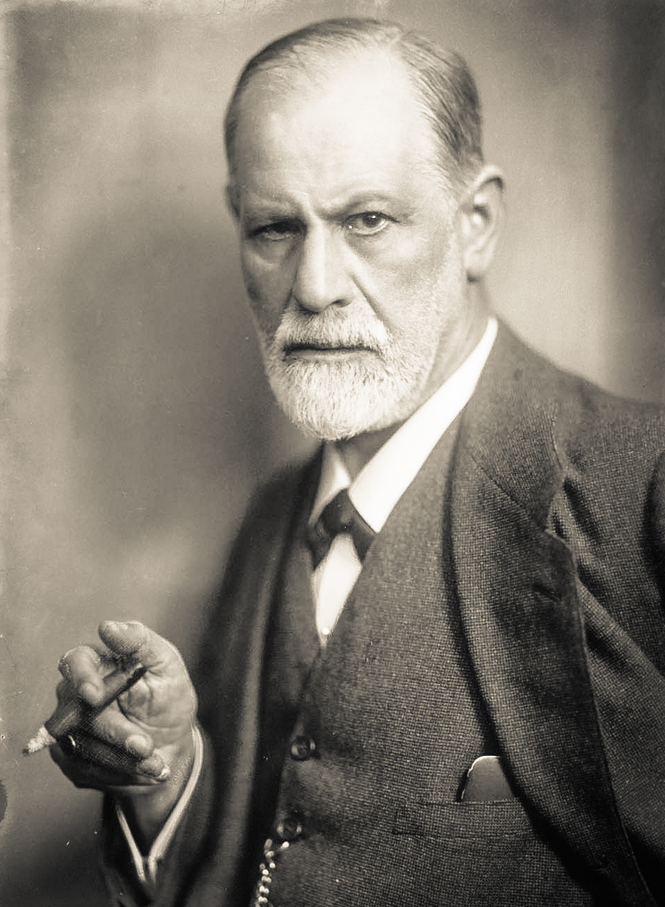 "One day, in retrospect, the years of struggle will strike you as the most beautiful."
― Sigmund Freud
Wikipedia:
Born
Sigismund Schlomo Freud
6 May 1856
Freiberg in Mähren, Moravia, Austrian Empire
(now Příbor, Czech Republic)
Died
23 September 1939 (aged 83)
Hampstead, London
Nationality
Austria
Fields
Neurology, psychology, psychotherapy, psychoanalysis
Institutions
University of Vienna

Alma mater

University of Vienna (MD, 1881)
Academic advisors
Notable awards
Spouse
Martha Bernays (m. 1886–1939, his death)
Signature
–
Sigmund Freud (born Sigismund Schlomo Freud; 6 May 1856 – 23 September 1939) was an Austrian neurologist, now known as the father of psychoanalysis. Freud qualified as a doctor of medicine at the University of Vienna in 1881, and then carried out research into cerebral palsy, aphasia and microscopic neuroanatomy at the Vienna General Hospital. Upon completing his habilitation in 1885, he was appointed a docent in neuropathology in the same year and became an affiliated professor (professor extraordinarius) in 1902.
In creating psychoanalysis, a clinical method for treating psychopathology through dialogue between a patient and a psychoanalyst, Freud developed therapeutic techniques such as the use of free association and discovered transference, establishing its central role in the analytic process. Freud's redefinition of sexuality to include its infantile forms led him to formulate the Oedipus complex as the central tenet of psychoanalytical theory. His analysis of dreams as wish-fulfillments provided him with models for the clinical analysis of symptom formation and the mechanisms of repression as well as for elaboration of his theory of the unconscious as an agency disruptive of conscious states of mind. Freud postulated the existence of libido, an energy with which mental processes and structures are invested and which generates erotic attachments, and a death drive, the source of compulsive repetition, hate, aggression and neurotic guilt. In his later work Freud developed a wide-ranging interpretation and critique of religion and culture.
Psychoanalysis remains influential within psychology, psychiatry, and psychotherapy, and across the humanities. As such, it continues to generate extensive and highly contested debate with regard to its therapeutic efficacy, its scientific status, and whether it advances or is detrimental to the feminist cause. Nonetheless, Freud's work has suffused contemporary Western thought and popular culture. In the words of W. H. Auden's poetic tribute, by the time of Freud's death in 1939, he had become "a whole climate of opinion / under whom we conduct our different lives".
–
Videos
PSYCHOTHERAPY – Sigmund Freud (the school of life)

–
SIGMUND FREUD – THE FATHER OF PSYCHOANALYSIS – NOVA – Discovery History Psychology (documentary)

–
Quotes
"Being entirely honest with oneself is a good exercise."
― Sigmund Freud

–

"We are never so defenseless against suffering as when we love."
― Sigmund Freud

–

"Most people do not really want freedom, because freedom involves responsibility, and most people are frightened of responsibility."
― Sigmund Freud, Civilization and Its Discontents

–

"Out of your vulnerabilities will come your strength."
― Sigmund Freud

–

"Unexpressed emotions will never die. They are buried alive and will come forth later in uglier ways."
― Sigmund Freud

–

"He that has eyes to see and ears to hear may convince himself that no mortal can keep a secret. If his lips are silent, he chatters with his fingertips; betrayal oozes out of him at every pore."
― Sigmund Freud, Introductory Lectures on Psychoanalysis

–

"In so doing, the idea forces itself upon him that religion is comparable to a childhood neurosis, and he is optimistic enough to suppose that mankind will surmount this neurotic phase, just as so many children grow out of their similar neurosis."
― Sigmund Freud, The Future of an Illusion (The Standard Edition)

–

"Religious doctrines … are all illusions, they do not admit of proof, and no one can be compelled to consider them as true or to believe in them."
― Sigmund Freud, The Future of an Illusion (The Standard Edition)

–

"Immorality, no less than morality, has at all times found support in religion."
― Sigmund Freud, The Future of an Illusion (The Standard Edition)

–

"In the depths of my heart I can't help being convinced that my dear fellow-men, with a few exceptions, are worthless."
― Sigmund Freud, Letters of Sigmund Freud, 1873-1939

–

"No, our science is no illusion. But an illusion it would be to suppose that what science cannot give us we can get elsewhere."
― Sigmund Freud, The Future of an Illusion (The Standard Edition)

–

"It is impossible to escape the impression that people commonly use false standards of measurement — that they seek power, success and wealth for themselves and admire them in others, and that they underestimate what is of true value in life."
― Sigmund Freud, Civilization and Its Discontents

–

"Whoever loves becomes humble. Those who love have , so to speak , pawned a part of their narcissism."
― Sigmund Freud

–

"Everywhere I go I find a poet has been there before me."
― Sigmund Freud

–

"Religion is a system of wishful illusions together with a disavowal of reality, such as we find nowhere else but in a state of blissful hallucinatory confusion. Religion's eleventh commandment is "Thou shalt not question."
― Sigmund Freud, The Future of an Illusion (The Standard Edition)

–

"Religion is an illusion and it derives its strength from the fact that it falls in with our instinctual desires."
― Sigmund Freud, New Introductory Lectures on Psychoanalysis

–

"Flowers are restful to look at. They have neither emotions nor conflicts."
― Sigmund Freud

–

"The virtuous man contents himself with dreaming that which the wicked man does in actual life."
― Sigmund Freud, The Interpretation of Dreams