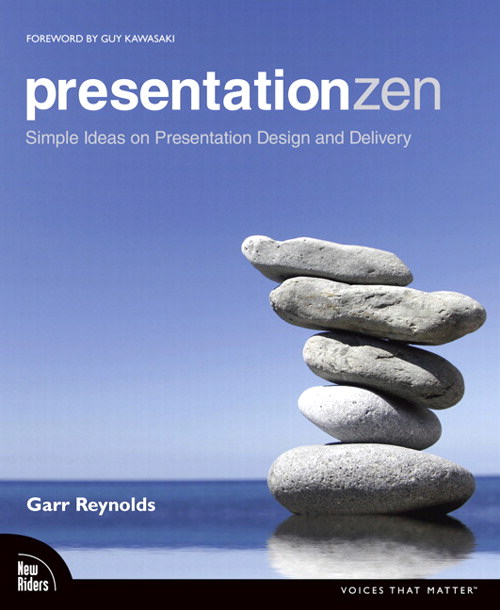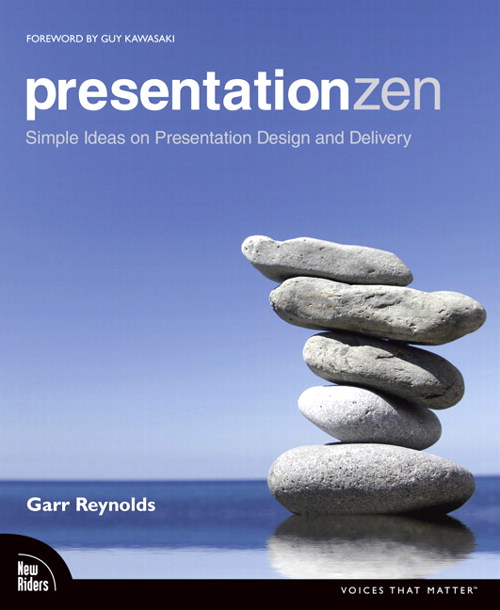 From Amazon:
Garr Reynolds
is an internationally acclaimed communications expert, and the creator of the most popular Web site on presentation design and delivery on the net:
presentationzen.com
.
A soughtafter speaker and consultant, his clients include many in the Fortune 500. A writer, designer, and musician, he currently holds the position of Associate Professor of Management at Kansai Gaidai University in Japan. Garr is a former corporate trainer for Sumitomo Electric, and once worked in Cupertino, California as the Manager for Worldwide User Group Relations at Apple, Inc. A longtime student of the Zen arts and resident of Japan, he currently lives in Osaka where he is Director of Design Matters Japan.
Garr Reynolds,  shares his experience in a provocative mix of illumination, inspiration, education, and guidance that will change the way you think about making presentations with PowerPoint or Keynote. 
Presentation Zen challenges the conventional wisdom of making "slide presentations" in today's world and encourages you to think differently and more creatively about the preparation, design, and delivery of your presentations.
Garr shares lessons and perspectives that draw upon practical advice from the fields of communication and business. Combining solid principles of design with the tenets of Zen simplicity, this book will help you along the path to simpler, more effective presentations.
—
TOC:
Introduction
 – Presenting in todays world
Preparation
– Creativity, limitations & contraints
– Planning Ananlog
– Crafting the Story
Design
– Simplicity – Why it matters
– Presentation design: Principles & Techniques
– Sample visuals: Images & Text
Delivery
– The Art of Being Completely Present
– Connecting with an Audience
– The Need For Engagement
Next Step
– The Journey Begins
Short Summary:
Introduction
The key principles of Presentation Zen are: Restraint in presentation. Simplicity in design. Naturalness in delivery.
Do not use many bullet points and a lot of text
Use high quality images
Preparation
Preparing, designing, and delivering a presentation is a creative act, and you are a creative being. Creativity requires an open mind and a willingness to be wrong
Prepare away from the computer. Go ANALOG
Pen & Paper (large notebook)
Slow down – Busyness kills creativity
It's only in still water that we can see
–Taoist proverb
Consider handouts, write notes (but learn by heart.. never read from screen/paper) & NEVER give away your presentation. The presentation should be worthless without YOU.
Create a story to make your message stick
Focus on the CORE message
Design
The Japanese Zen arts teach us that it is possible to express great beauty and convey powerful messages through simplification.
Simplicity is powerful and leads to greater clarity, but not simple nor easy to achieve
Good design have plenty of empty space. Think substract.. not add..
pictures are remembered better than words—especially when people are casually exposed to the information and the exposure is for a very limited time.
Delivery
a presentation requires your full attention, be mindful
Start STRONG (no warm-up slides)
Bring energy & passion to your delivery
Be positive, upbeat, humorous…
Smile