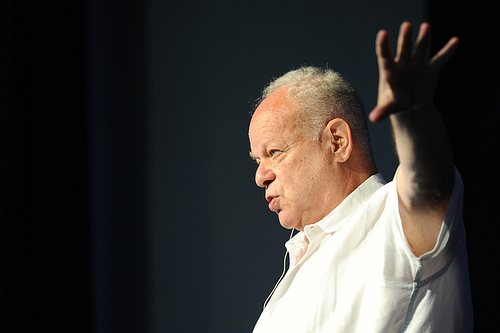 From Wikipedia:
Born
August 12, 1942 (age 69)
Albany, New York
Nationality
American
Education
Ph.D. in Psychology at University of Pennsylvania
Alma mater
Princeton University
Occupation
Psychologist, educator, and author
Employer
University of Pennsylvania
Organization
Department of Psychology
Title
Zellerbach Family Professor of Psychology
Martin E. P. "Marty" Seligman (born August 12, 1942) is an American psychologist, educator, and author of self-help books. His theory of learned helplessness is popular among scientific and clinical psychologists.
According to Haggbloom et al.'s study of the most eminent psychologists of the 20th century, Seligman was the 13th most frequently cited psychologist in introductory psychology textbooks throughout the century, as well as the 31st most eminent overall.
Seligman is the Zellerbach Family Professor of Psychology in the University of Pennsylvania's Department of Psychology. He was previously the Director of the Clinical Training Program in the department. He is the director of the university's Positive Psychology Center. Seligman was elected President of the American Psychological Association for 1998. He is the founding editor-in-chief of Prevention and Treatment Magazine (the APA electronic journal) and is on the board of advisers of Parents magazine.
Seligman has written about positive psychology topics such as The Optimistic Child, Child's Play, Learned Optimism, Authentic Happiness, and Flourish.
—
Quotes:
The pleasant life: a life that successfully pursues the positive emotions about the present, past, and future.

The good life: using your signature strengths to obtain abundant gratification in the main realms of your life.

The meaningful life: using your signature strengths and virtues in the service of something much larger than you are.

The good life consists in deriving happiness by using your signature strengths every day in the main realms of living. The meaningful life adds one more component: using these same strengths to forward knowledge, power, or goodness.

Just as the good life is something beyond the pleasant life, the meaningful life is beyond the good life.

Pleasure is the least consequential… engagement and meaning are much more important.

—

It … came as a shock to us to discover that there are no less than six virtues that are endorsed across every major religious and cultural tradition. … Wisdom and knowledge, Courage, Love and humanity, Justice, Temperance, and Spirituality and Transcendence.

To be a virtuous person is to display, by acts of will, all or at least most of the six ubiquitous virtues: wisdom, courage, humanity, justice, temperance, and transcendence.

Work life is undergoing a sea change in the wealthiest nations. Money, amazingly, in losing its power. … Our economy is rapidly changing from a money economy to a satisfaction economy.

—

A composer can have all the talent of Mozart and a passionate desire to succeed, but if he believes he cannot compose music, he will come to nothing. He will not try hard enough. He will give up too soon when the elusive right melody takes too long to materialize.

Finding permanent and universal causes for misfortune is the practice of despair…

Self-esteem cannot be directly injected. It needs to result from doing well, from being warranted.

In your own life, you should take particular care with endings, for their color will forever tinge your memory of the entire relationship and your willingness to re-enter it.

People who believe they cause good things tend to like themselves better than people who believe good things come from other people or circumstances.

There is one aspect of happiness that's been well studied, and it's the notion of flow. Ask yourselves, when for you does time stop? When are you truly at home, wanting to be no place else?