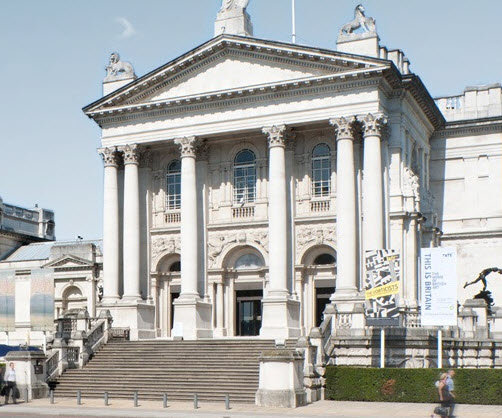 I'm planning a visit to Tate Britain on Wednesday.. some planning is due…
From Wikipedia:
Tate Britain is an art gallery situated on Millbank in London, and part of the Tate gallery network in Britain, with Tate Modern, Tate Liverpool and Tate St Ives. It is the oldest gallery in the network, opening in 1897. It houses a substantial collection of the works of J. M. W. Turner.
Location: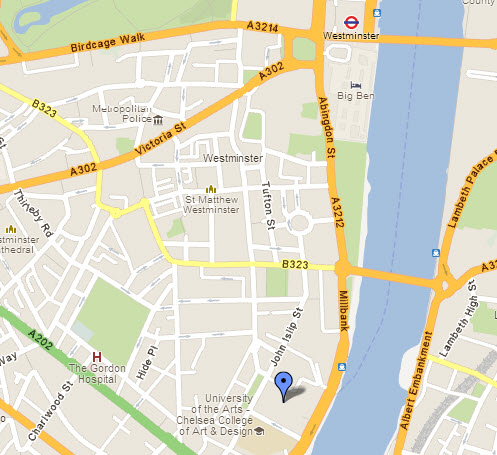 Tate Britain
Millbank
London SW1P 4RG
United Kingdom
The gallery housed and displayed both British and Modern collections, but was renamed "Tate Britain" in March 2000, before the launch of Tate Modern, since which time it has been dedicated to the display of historical and contemporary British art only.
Tate Britain includes the Clore Gallery of 1987, designed by James Stirling, which houses work by J. M. W. Turner.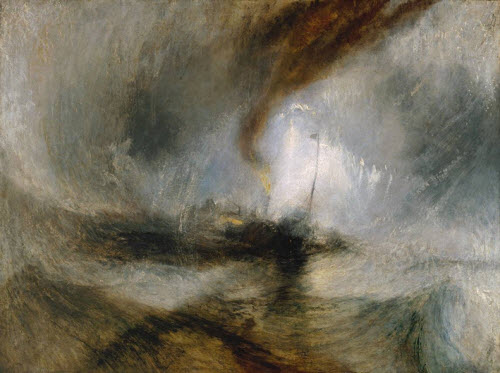 Turner's "Snow Storm – Steam-Boat off a Harbour's Mouth" (1842) is one of my all time fav works of art. 
The main display spaces show the permanent collection of historic British art, as well as contemporary work. It has rooms dedicated to works by one artist, such as: Tracey Emin, John Latham, Douglas Gordon, Sam Taylor-Wood, Marcus Gheeraerts II, though these, like the rest of the collection, are subject to rotation.
Tate Britain is the national gallery of British art from 1500 to the present day. As such, it is the most comprehensive collection of its kind in the world (only the Yale Center for British Art can claim similar expansiveness, but with less depth). More recent artists include David Hockney, Peter Blake and Francis Bacon.
Some of the highlights:
Tate's collection of Joseph Mallord William Turner paintings
–
Ophelia – Sir John Everett Millais (1851/52)
Ophelia is a painting by British artist Sir John Everett Millais, completed between 1851 and 1852. Currently held in the Tate Britain in London, it depicts Ophelia, a character from Shakespeare's play Hamlet, singing before she drowns in a river in Denmark.
–
Nocturne: Blue and Gold – Old Battersea Bridge – James Abbott McNeill Whistler (1872-75)
Nocturne: Blue and Gold – Old Battersea Bridge is a painting by the American-born British artist James McNeill Whistler, now held in the collections of Tate Britain. It was painted around 1872–5.
–

 The Lady of Shalott – John William Waterhouse (1888)
The Lady of Shalott is an 1888 oil-on-canvas painting by the English Pre-Raphaelite painter John William Waterhouse. The work is a representation of a scene from Alfred, Lord Tennyson's 1832 poem of the same name,

 

in which the poet describes the plight of a young woman (loosely based on Elaine of Astolat, who yearned with an unrequited love for the knight Sir Lancelot) isolated under an undisclosed curse in a tower near King Arthur's Camelot. Waterhouse painted three different versions of this character, in 1888,

 

1894

 

and 1916.
–> On loan to Birmingham Museum and Art Gallery (Birmingham)
– 
Newton – William Blake (1805)
Newton is a monotype by the English poet, painter and printmaker William Blake first completed in 1795,

 

but reworked and reprinted in 1805.

 

It is one of the 12 "Large Colour Prints" or "Large Colour Printed Drawings" created between 1795 and 1805, which also include his series of images on the biblical ruler Nebuchadnezzar.
–
Flatford Mill (Scene on a Navigable River) – John Constable (1816)
Flatford Mill (Scene on a Navigable River) is an oil painting by English artist John Constable, painted in 1816. It is Constable's largest exhibition canvas to be painted mainly outdoors, the first of his large "six foot" paintings, and the first in the Stour series which later included The Hay Wain. It is owned and exhibited at the Tate Britain gallery in London.
–

–
Horse Devoured by a Lion – George Stubbs (1763)
This work is presumed to be one of a pair with the Tate's Horse Frightened by a Lion (Tate Gallery T06869), which was exhibited at the Society of Artists in 1763. Both are similar in style, mood, size and colouring. The theme of a horse being attacked by a lion obsessed Stubbs for thirty years. He made at least seventeen works on the theme, in various media including oil, enamel, engravings, and a relief model in Wedgwood black basalt.
–
Three Studies for Figures at the Base of a Crucifixion by Francis Bacon (1944)
Three Studies for Figures at the Base of a Crucifixion is a 1944 triptych painted by British artist Francis Bacon. The work is based on the Eumenides—or Furies—of Aeschylus' The Oresteia, and depicts three writhing anthropomorphic creatures set against a flat burnt orangebackground. Three Studies was executed in oil paint and pastel on Sundeala fibre board and completed within the space of two weeks.