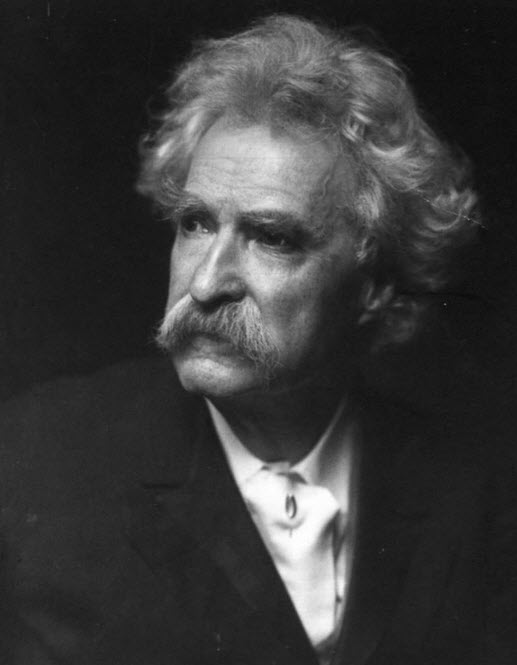 Wikipedia:
Born
Samuel Langhorne Clemens
November 30, 1835
Florida, Missouri, U.S.
Died
April 21, 1910 (aged 74)
Redding, Connecticut, U.S.
Pen name
Mark Twain
Occupation
Writer, lecturer
Nationality
American
Notable work(s)
Adventures of Huckleberry Finn,The Adventures of Tom Sawyer
Spouse(s)
Olivia Langdon Clemens (m. 1870–1904)
Children
Langdon, Susy, Clara, Jean
Samuel Langhorne Clemens (November 30, 1835 – April 21, 1910), better known by his pen name Mark Twain, was an American author and humorist. He wrote The Adventures of Tom Sawyer (1876) and its sequel, Adventures of Huckleberry Finn (1885), the latter often called "the Great American Novel."
Quotes:
Never argue with stupid people, they will drag you down to their level and then beat you with experience.

Go to Heaven for the climate, Hell for the company.

I am an old man and have known a great many troubles, but most of them never happened.

Age is an issue of mind over matter. If you don't mind, it doesn't matter.

It is better to remain silent and be thought a fool than to open one's mouth and remove all doubt.

Whenever you find yourself on the side of the majority, it is time to pause and reflect.

Anger is an acid that can do more harm to the vessel in which it is stored than to anything on which it is poured.

Patriotism is supporting your country all the time, and your government when it deserves it.

Kindness is the language which the deaf can hear and the blind can see.

The fear of death follows from the fear of life. A man who lives fully is prepared to die at any time.

Courage is resistance to fear, mastery of fear, not absence of fear.

The secret of getting ahead is getting started.

Giving up smoking is the easiest thing in the world. I know because I've done it thousands of times.

It ain't what you don't know that gets you into trouble. It's what you know for sure that just ain't so.

I've never let my school interfere with my education.

The best way to cheer yourself up is to try to cheer somebody else up.

A man's character may be learned from the adjectives which he habitually uses in conversation.

A man's character may be learned from the adjectives which he habitually uses in conversation.

It ain't those parts of the Bible that I can't understand that bother me, it is the parts that I do understand.

The most interesting information comes from children, for they tell all they know and then stop.

Humor is mankind's greatest blessing.

Life would be infinitely happier if we could only be born at the age of eighty and gradually approach eighteen.

A lie can travel half way around the world while the truth is putting on its shoes.

Classic' – a book which people praise and don't read.

Keep away from people who try to belittle your ambitions. Small people always do that, but the really great make you feel that you, too, can become great.

In a good bookroom you feel in some mysterious way that you are absorbing the wisdom contained in all the books through your skin, without even opening them.

God created war so that Americans would learn geography.

Never allow someone to be your priority while allowing yourself to be their option.