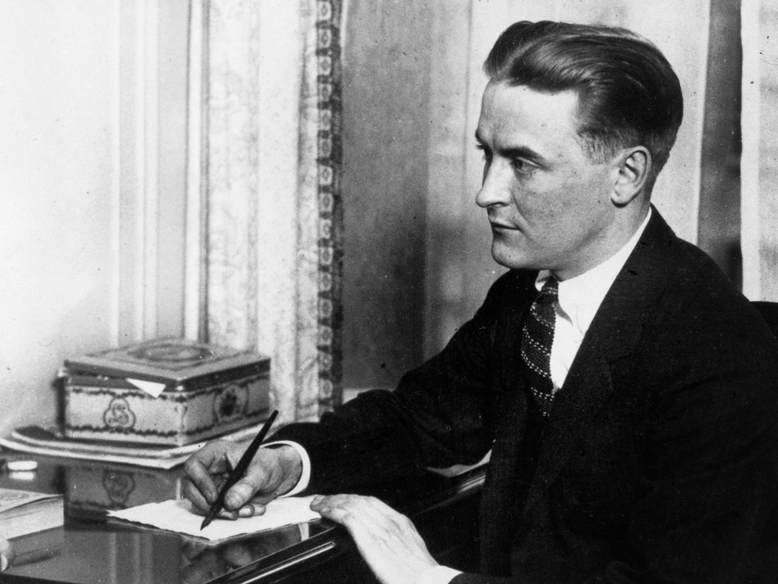 "That is part of the beauty of all literature. You discover that your longings are universal longings, that you're not lonely and isolated from anyone. You belong."
― F. Scott Fitzgerald
Wikipedia:
Born
Francis Scott Key Fitzgerald
September 24, 1896
St. Paul, Minnesota, United States
Died
December 21, 1940 (aged 44)
Hollywood, Los Angeles, California, United States
Resting place
Saint Mary's Cemetery
Occupation
Novelist, short story writer
Nationality
American
Period
1920–40
Notable works
The Great Gatsby
Spouse
Zelda Sayre (m. 1920–40)
Children
Frances Scott Fitzgerald

---

Signature
Francis Scott Key Fitzgerald (September 24, 1896 – December 21, 1940) was an American author of novels and short stories, whose works are the paradigmatic writings of the Jazz Age. He is widely regarded as one of the greatest American writers of the 20th century. Fitzgerald is considered a member of the "Lost Generation" of the 1920s. He finished four novels: This Side of Paradise, The Beautiful and Damned, The Great Gatsby (his best known), and Tender Is the Night. A fifth, unfinished novel, The Love of the Last Tycoon, was published posthumously. Fitzgerald also wrote many short stories that treat themes of youth and promise along with age and despair.
–
Legacy
Fitzgerald's work has inspired writers ever since he was first published.
The publication of The Great Gatsby prompted T. S. Eliot to write, in a letter to Fitzgerald, "It seems to me to be the first step that American fiction has taken since Henry James …"
Don Birnam, the protagonist of Charles Jackson's The Lost Weekend, says to himself, referring to The Great Gatsby, "There's no such thing … as a flawless novel. But if there is, this is it."

 

In letters written in the 1940s, J. D. Salinger expressed admiration of Fitzgerald's work, and his biographer Ian Hamilton wrote that Salinger even saw himself for some time as "Fitzgerald's successor".
Richard Yates, a writer often compared to Fitzgerald, called The Great Gatsby "the most nourishing novel [he] read … a miracle of talent … a triumph of technique".
It was written in a New York Times editorial after his death that Fitzgerald "was better than he knew, for in fact and in the literary sense he invented a generation … He might have interpreted them and even guided them, as in their middle years they saw a different and nobler freedom threatened with destruction."
Into the 21st century, millions of copies of The Great Gatsby and his other works have been sold, and Gatsby, a constant best-seller, is required reading in many high school and college classes.
Fitzgerald is a 2009 inductee of the New Jersey Hall of Fame. He is also the namesake of the Fitzgerald Theater in St. Paul, Minnesota, home of the radio broadcast of A Prairie Home Companion.
–
Videos
BBC Sincerely F Scott Fitzgerald

–
American Masters F Scott Fitzgerald Winter Dreams (youtube playlist)

–
Quotes
"So we beat on, boats against the current, borne back ceaselessly into the past."
― F. Scott Fitzgerald, The Great Gatsby

–

"I hope she'll be a fool — that's the best thing a girl can be in this world, a beautiful little fool."
― F. Scott Fitzgerald, The Great Gatsby

–

"The loneliest moment in someone's life is when they are watching their whole world fall apart, and all they can do is stare blankly."
― F. Scott Fitzgerald, The Great Gatsby

–

"I don't want to repeat my innocence. I want the pleasure of losing it again."
― F. Scott Fitzgerald, This Side of Paradise

–

"Angry, and half in love with her, and tremendously sorry, I turned away."
― F. Scott Fitzgerald, The Great Gatsby

–

"I fell in love with her courage, her sincerity, and her flaming self respect. And it's these things I'd believe in, even if the whole world indulged in wild suspicions that she wasn't all she should be. I love her and it is the beginning of everything."
― F. Scott Fitzgerald

–

"And so with the sunshine and the great bursts of leaves growing on the trees, just as things grow in fast movies, I had that familiar conviction that life was beginning over again with the summer."
― F. Scott Fitzgerald, The Great Gatsby

–

"And I like large parties. They're so intimate. At small parties there isn't any privacy."
― F. Scott Fitzgerald, The Great Gatsby

–

"Show me a hero, and I'll write you a tragedy."
― F. Scott Fitzgerald

–

"He smiled understandingly-much more than understandingly. It was one of those rare smiles with a quality of eternal reassurance in it, that you may come across four or five times in life. It faced–or seemed to face–the whole eternal world for an instant, and then concentrated on you with an irresistible prejudice in your favor. It understood you just as far as you wanted to be understood, believed in you as you would like to believe in yourself, and assured you that it had precisely the impression of you that, at your best, you hoped to convey."
― F. Scott Fitzgerald, The Great Gatsby

–

"I wasn't actually in love, but I felt a sort of tender curiosity."
― F. Scott Fitzgerald, The Great Gatsby

–

"I'm not sentimental–I'm as romantic as you are. The idea, you know,
is that the sentimental person thinks things will last–the romantic
person has a desperate confidence that they won't."
― F. Scott Fitzgerald, This Side of Paradise

–

"Let us learn to show our friendship for a man when he is alive and not after he is dead."
― F. Scott Fitzgerald, The Great Gatsby

–

"I was within and without. Simultaneously enchanted and repelled by the inexhaustible variety of life."
― F. Scott Fitzgerald, The Great Gatsby

–

"You see I usually find myself among strangers because I drift here and there trying to forget the sad things that happened to me."
― F. Scott Fitzgerald, The Great Gatsby

–

"Whenever you feel like criticizing any one…just remember that all the people in this world haven't had the advantages that you've had."
― F. Scott Fitzgerald

–

"You don't write because you want to say something, you write because you have something to say."
― F. Scott Fitzgerald

–

"It was only a sunny smile, and little it cost in the giving, but like morning light it scattered the night and made the day worth living."
― F. Scott Fitzgerald

–

"Cut out all these exclamation points. An exclamation point is like laughing at your own joke."
― F. Scott Fitzgerald

–

"Can't repeat the past?…Why of course you can!"
― F. Scott Fitzgerald, The Great Gatsby

–

"Life starts all over again when it gets crisp in the fall."
― F. Scott Fitzgerald, The Great Gatsby

–

"You'll find another.'
God! Banish the thought. Why don't you tell me that 'if the girl had been worth having she'd have waited for you'? No, sir, the girl really worth having won't wait for anybody."
― F. Scott Fitzgerald, This Side of Paradise

–

"They slipped briskly into an intimacy from which they never recovered."
― F. Scott Fitzgerald, This Side of Paradise

–

"Here's to alcohol, the rose colored glasses of life."
― F. Scott Fitzgerald, The Beautiful and Damned