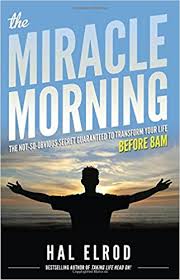 The Miracle Morning: The Not-So-Obvious Secret Guaranteed to Transform Your Life (Before 8AM)
Self-Help, Motivational, Entrepreneurship
Hal Elrod
December 7, 2012
Kindle
180
Chapters 6: The Life S.A.V.E.R.S.
The very American/Tony Robbins'ish language..
Everyone.. even those who believe their not a "morning person"
The title almost put me off. Then the very American/Tony Robbins'ish language gave me a hard time.
But enabling the right "language filter" when reading, the book is really great.
I've been an early riser for about six years, 2 hours alone before the rest of my family starts moving is priceless. Nice to find that of Elrod's 6 "Life S.A.V.E.R.S." (6 habits to apply each "Miracle morning"), I've been practicing 4 of them for many years; Silence (for me meditation), Exercise, Reading & Scribe (Journaling). The other two - Affirmations & Visualization - have been on my mind for some time, he might just have pushed me to test them out.
The book contains many great quotes (I love great quotes), lots of inspiration and a nice personal touch (here's my story...).
I highly recommend joining "The 5am club", and this book will guide you in the right direction. And remember with the right motivation (this book will motivate you) everyone can rise earlier and have a wonderful start to each day. Good luck.

–
Table Of Content
Book review
"Every once in a while, you read a book that changes the way you look at life. But it is so rare to find a book that changes the way you live your life. The Miracle Morning does both, and faster than you ever thought possible. I highly recommend Hal Elrod's latest book."
-TIM SANDERS, NY Times bestselling author of The Likability Factor

"The Miracle Morning(tm) is literally the ONE thing that will make immediate and profound changes in any-or every area of your life. If you really want your life to improve, read this book immediately."
-RUDY RUETTIGER, the Notre Dame football player who inspired the hit Hollywood movie RUDY

"At first I thought Hal had lost his mind-why on earth would anyone get up so early on a regular basis?!?! I was skeptical… until I tried it. When I implemented Hal's strategies I noticed an immediate difference in my personal and professional life. The Miracle Morning(tm) will show you how to take control of your life, regardless of your past. I highly recommend it."
-JOSH SHIPP, TV show host, author, and Teen Behavior Expert
Continue reading "Great Book: "The Miracle Morning" by Hal Elrod – A 23-min Summary" →