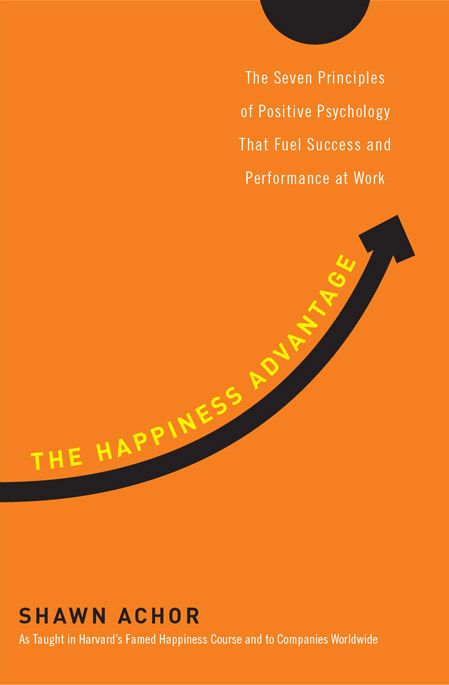 From amazon.com:
Shawn Achor is the winner of over a dozen distinguished teaching awards at Harvard University, where he delivered lectures on positive psychology in the most popular class at Harvard. Today Shawn travels around the world giving talks on positive psychology to Fortune 500 companies, schools, and non-profit organizations. He has worked with doctors in California, executives in Hong Kong, teachers in South Africa, and bankers in Switzerland. Shawn graduated magna cum laude from Harvard and earned a Masters degree from Harvard Divinity School in Christian and Buddhist ethics. In 2006, he served as Head Teaching Fellow with Dr. Tal Ben-Shahar of "Positive Psychology," a class that enrolled 1 out of every 7 Harvard undergraduates. For seven years, Shawn also served as an Officer of Harvard, living in Harvard Yard and counseling students through the stresses of their first year. Though he now travels extensively for his work with Aspirant, Shawn continues to conduct original psychology research on happiness and organizational achievement.
TOC
Part One: Positive Psychology at Work
Introduction
Discovering the Happiness Advantage
The Happiness Advantage at Work
Change is Possible
Part Two: Seven Priciples
Principle #1: The Happiness Advantage
Principle #2: The Fulcrum and The Lever
Principle #3: The Tetris Effect
Principle #4: Falling Up
Principle #5: The Zorro Circle
Principle #6: The 20-second Rule
Principle #7: Social Investment
Part Three: The Ripple Effect
Spreading The Happiness Advantage at Work, at Home, and Beyond
–
Short Summary
Part1 – Positive Psychology at Work
 we now know that happiness is the precursor to success, not merely the result. And that happiness and optimism actually fuel performance and achievement
in 200 studies on 275,000 people worldwide:  happiness leads to success in nearly every domain, including work, health, friendship, sociability, creativity, and energy.
Part 2: Seven Priciples
Principle #1: The Happiness Advantage
When we are happy—when our mindset and mood are positive—we are smarter, more motivated, and thus more successful. Happiness is the center, and success revolves around it.

Happiness boosters:

meditation, looking forward to something, commit conscious acts of kindness, exercise, Spend money (but NOT on Stuff), exercise a Signature Strength, ..
Principle #2: The Fulcrum & The Lever
Changing your Peformance by changing your Mindset
Happiness is not about lying to ourselves, or turning a blind eye to the negative, but about adjusting our brain so that we see the ways to rise above our circumstances.
The mental construction of our daily activities, more than the activity itself, defines our reality.
The heart of the challenge is to stop thinking of the world as fixed when reality is, in truth, relative.
Principle #3 – The Tetris Effect
Training Your Brain to Capitalize on Possibility
Train your brain to scan the world for the opportunities and ideas that allow our success rate to grow.
The best way to kick-start this is to start making a daily list of the good things in your job, your career, and your life.
Principle #4 – Falling Up
Capitalizing on the downs to build Upward Momentum
Study after study shows that if we are able to conceive of a failure as an opportunity for growth, we are all the more likely to experience that growth
It's about using that downward momentum to propel ourselves in the opposite direction. It's about capitalizing on setbacks and adversity to become even happier, even more motivated, and even more successful. It's not falling down, it's falling up.
Principle #5 – The Zorro Circle
How Limiting Your Focus to Small, Manageable Goals Can Expand Your Sphere of Power
Feeling that we are in control, that we are masters of our own fate at work and at home, is one of the strongest drivers of both well-being and performance.
Happiness, and health have less to do with how much control we actually have and more with how much control we think we have.
No matter what you may have heard from motivational speakers, coaches, and the like, reaching for the stars is a recipe for failure.
As Harvard Business School professor Peter Bregman advises, "Don't write a book, write a page.
Principle #6 – The 20-Second Rule
How to Turn Bad Habits into Good Ones by minimizing Barriers to Change
Common sense is not common action….
That's why even though doctors know better than anyone the importance of exercise and diet, 44 percent of them are overweight.
Our willpower weakens the more we use it.
The key to creating these habits is ritual, repeated practice, until the actions become ingrained in your brain's neural chemistry. And the key to daily practice is to put your desired actions as close to the path of least resistance as humanly possible.
Priciple #7 – Social Investment
Why Social support is your single Greatest asset
social relationships are the single greatest investment you can make in the Happiness Advantage.
3. The Ripple effect
Each one of us is like that butterfly (re: the butterfly effect). And each tiny move towards a more positive mindset can send ripples of positivity through our organizations, our families, and our communities.

Emotions are highly contagious… both negative emotions & positive emotions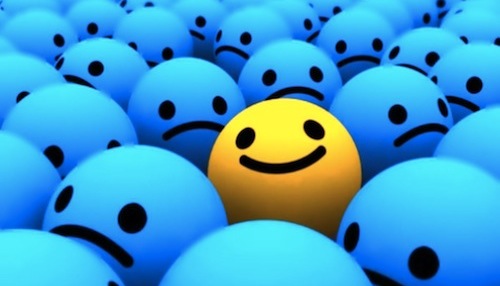 Continue reading "The Happiness Advantage: The Seven Principles of Positive Psychology That Fuel Success and Performance at Work – Shawn Achor" →