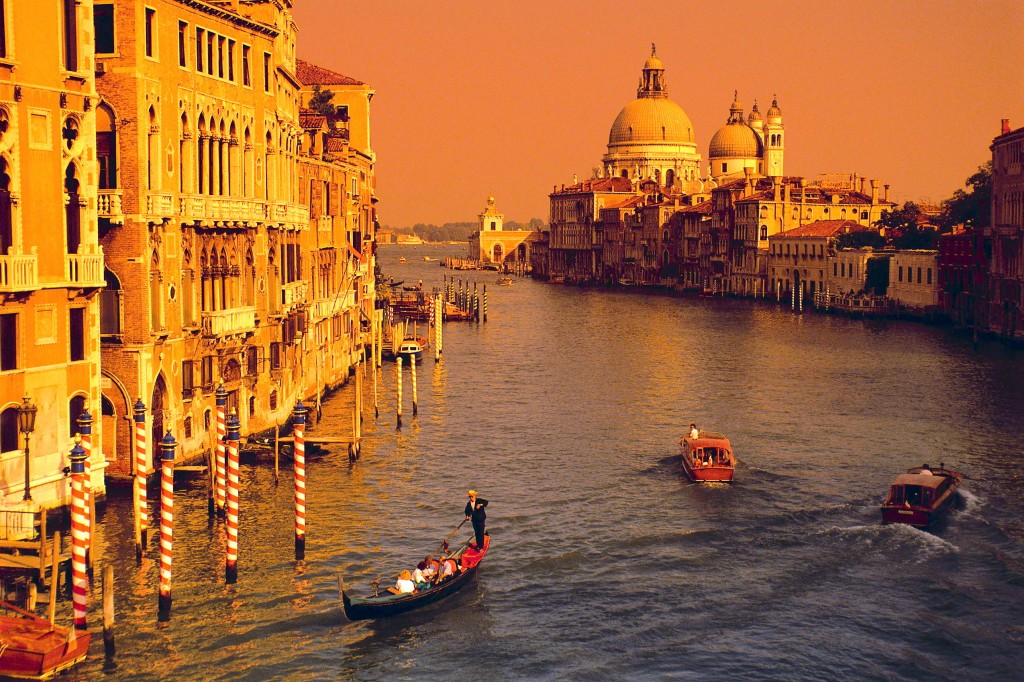 Hard Edges
Plan
Museum – Gallerie dell'Accademia
Churches
Architecture / Palaces
Hard Edges:
Destination: Venice – Italy
Time: arrive @ Hotel Thursday around 14:30 – April 19, leave Sunday from Hotel around 1230
Hotel: = Splendid Venice
Main focus: Walking around, St. Mark's Square, St. Mark's Basilica, Doge's Palace, Rialto Bridge, Accademia, Frari Church.. great fun, great food  & wine.
Social circumstances: Group of ~30 people traveling together.
Guide & Tours: Walks of Italy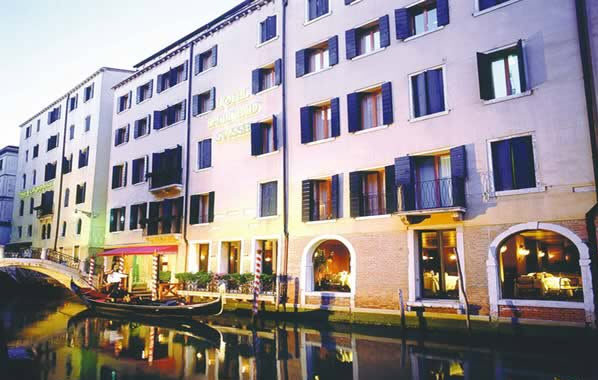 Plan:
Thursday:
~1430 – @ Splendid Venice Hotel
~1500 – Welcome to Venice mini tour by myself (Rialto Bridge & St. Mark's Square)
~1600 – Snack & wine @ Gran Caffè Quadri – St. Mark's Square
Menu -> Gran Caffe Quadri menu
~1700 – Church of San Zaccaria
~1930 – Dinner @ Restaurant Terrazza Danieli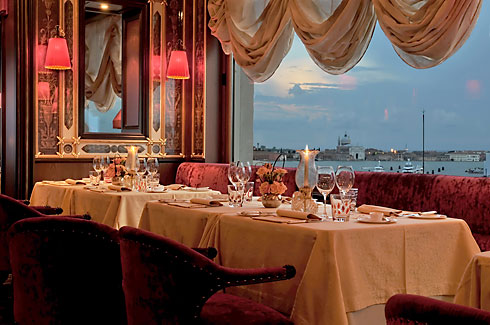 Friday:
0800 – Rise & shine, juice, coffee
0900 – Breakfast @ Hotel
1000 – "Venice City Stroll – Famous Canals, Bridges & Palaces"
~1300 – Frari Church
~1400 – lunch @ Venice Restaurant Impronta Cafe
~1500 – Scuola Grande di San Rocco
1930 – Dinner @  Le Maschere (Hotel Resturant)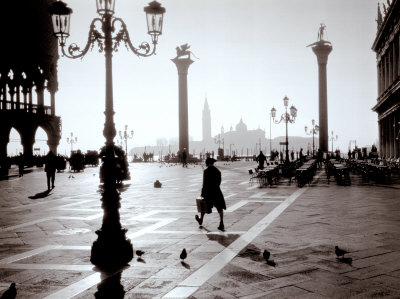 Saturday:
0800 – Rise & shine, juice, coffee
0900 – Breakfast @ Hotel
1000 – "Legendary Venice – St. Mark's Basilica & The Doge's Palace"
~1300 – drinks @ Caffè Florian – St. Mark's Square
~1400 – Lunch @ Pizzeria Accademia
~1500 – Accademia Museum
1930 – Dinner @ Ristorante Ai Due Vescovi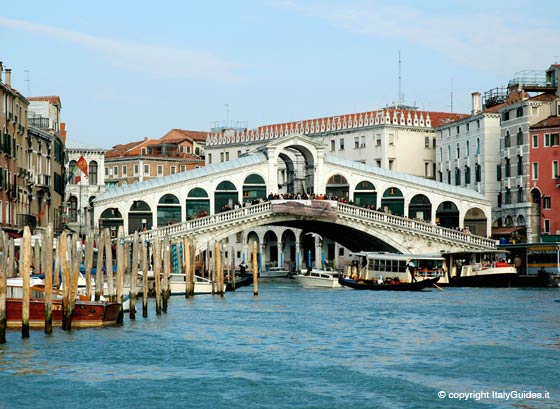 Sunday:
0900 – Rise & shine, juice, coffee
0930 –  Breakfast @ Hotel
1000 – walk around
1230 – Leaving from Hotel
Google map -> Venice 2012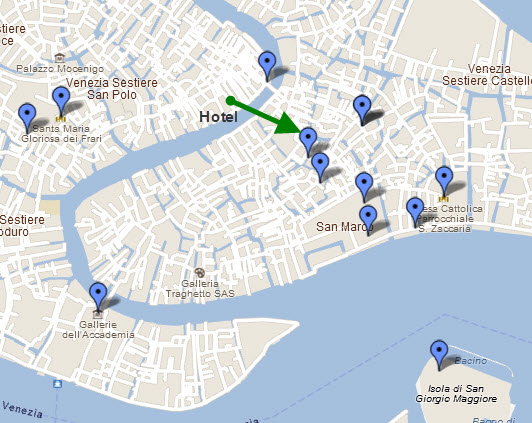 Facts about Museums, Artists, Churches, Museum & Palaces mostly from Wikipedia & Rick Steve's Venice 2012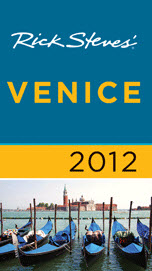 Seleceted artwork inspired by many different sources… books, websites, TTC videos & personal taste.
6 Districts: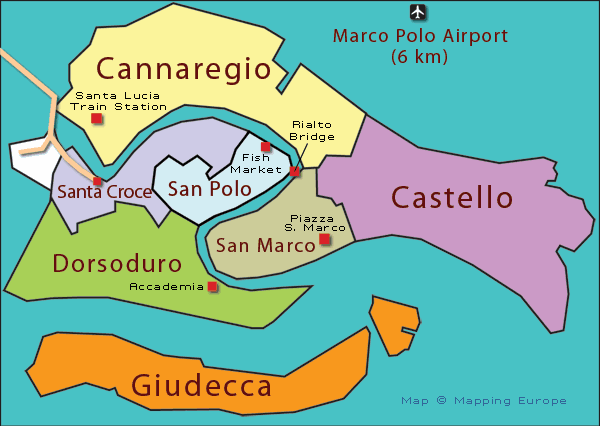 Rick Steve's highlights:
[ws_table id="1″]
General Experiences
just walking around  –  get lost on purpose
St. Marks Square – listening to duelling orchestras
Picnic
The only legal place to picnic in Venice is Giardinetti Reali, the waterfront park near St. Mark's Square.
 – COOP supermarket between St. Mark's and Campo Santa Maria Famosa (Calle del mondo novo – marked on my google map) PS – Pigeons
Museum – Gallerie dell'Accademia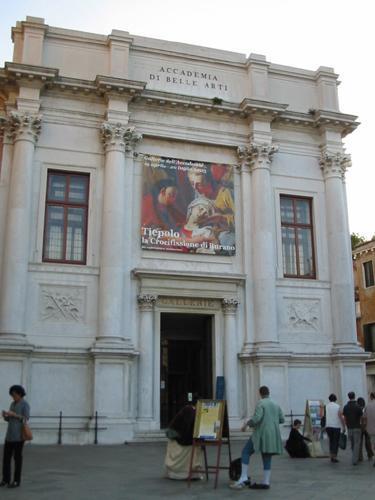 The Anoo (Gallerie dell'Accademia) is a museum gallery of pre-19th century art in Venice, northern Italy. Situated on the south bank of the Grand Canal, within the sestiere of Dorsoduro, it gives its name to one of the three bridges across the canal, the Ponte dell'Accademia, and to the boat landing station for the vaporetto water bus. It was originally created as an art school.
The Most important museum in Venice, and it's loaded with Venetian Renaissance art.
[ws_table id="7″]
Highlights: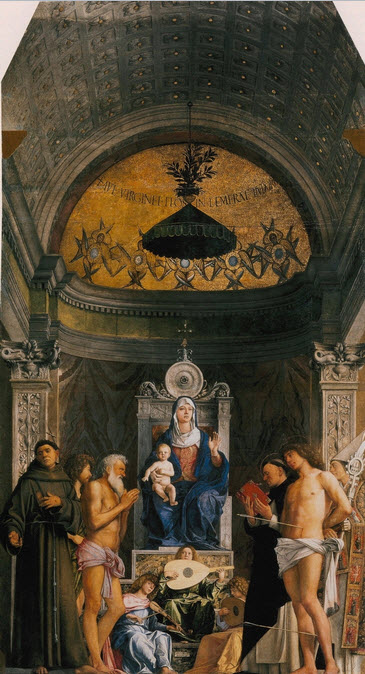 [ws_table id="8″]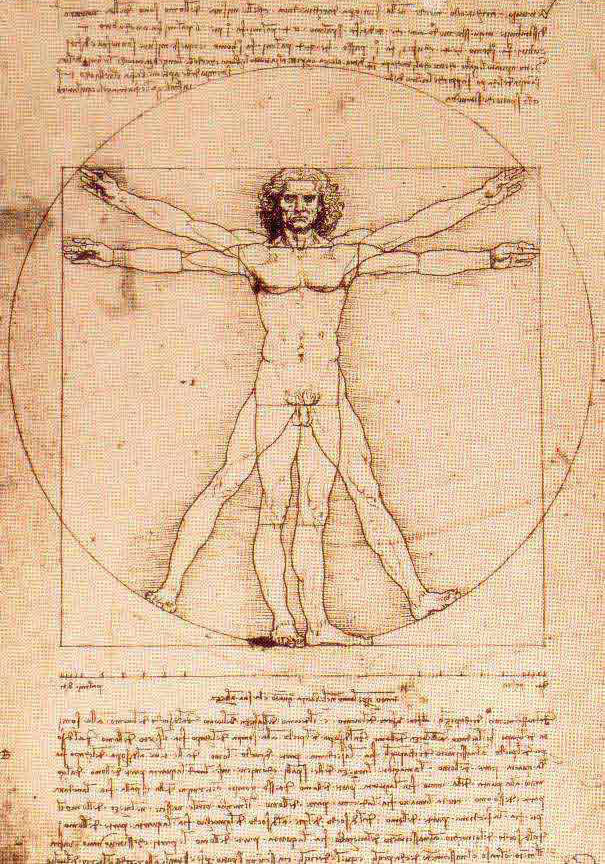 Churches
St. Mark's Basilica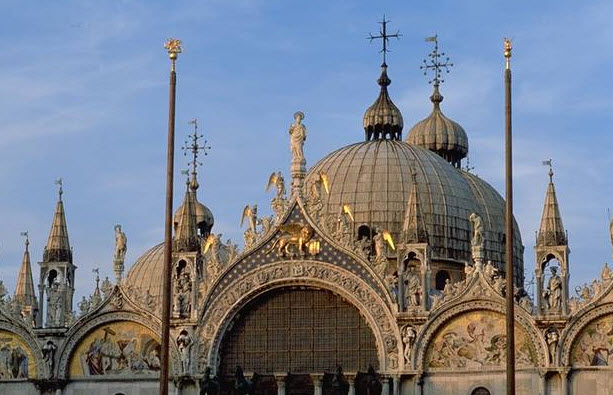 The Patriarchal Cathedral Basilica of Saint Mark (officially known in Italian as the Basilica Cattedrale Patriarcale di San Marco and commonly known as Saint Mark's Basilica) is the cathedral church of the Roman Catholic Archdiocese of Venice, northern Italy. It is the most famous of the city's churches and one of the best known examples of Byzantine architecture. It lies at the eastern end of the Piazza San Marco, adjacent and connected to the Doge's Palace. Originally it was the chapel of the Doge, and has only been the city's cathedral since 1807, when it became the seat of the Patriarch of Venice, archbishop of the Roman Catholic Archdiocese of Venice, formerly at San Pietro di Castello. For its opulent design, gilded Byzantine mosaics, and its status as a symbol of Venetian wealth and power, from the 11th century on the building has been known by the nickname Chiesa d'Oro (Church of gold).
Rick Steves:  "Among Europe's Churches St. Mark's is Peerless. From the outside, it's a riot of domes, columns and statues, completely unlike the towering Gothic churches of northern Europe or the heavy Baroque of much of the rest of Italy. Inside the decor of Mosaics colored marbles, and oriental trasures is rarely seen elsewhere. The Christian symbolism is unfamiliar to western eyes, done in the style of Byzantine icons and even Islamic design…"
Highlights:
[ws_table id="9″]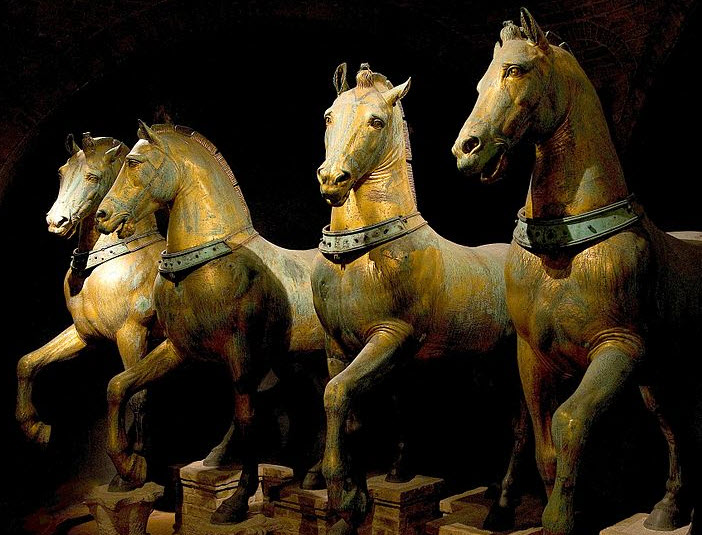 Basilica di Santa Maria Gloriosa dei Frari
Franciscan church featuring Renaissance masters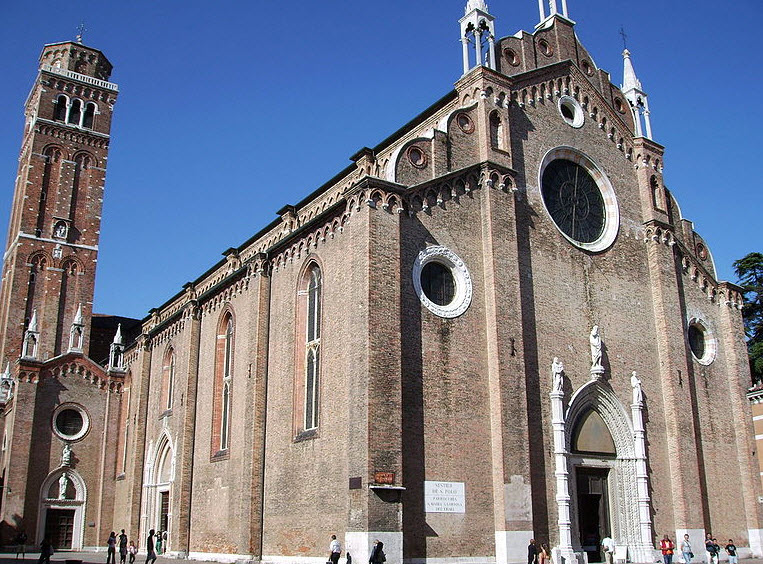 The Basilica di Santa Maria Gloriosa dei Frari, usually just called the Frari, is a church in Venice, northern Italy. One of the greatest churches in the city, it has the status of a minor basilica. It stands on the Campo dei Frari at the heart of the San Polo district. The church is dedicated to the Assumption (Italian: Assunzione della Beata Virgine). The Franciscans were granted land to build a church in 1250, but the building was not completed until 1338. Work almost immediately began on its much larger replacement, the current church, which took over a century to build. The campanile, the second tallest in the city after that of San Marco, was completed in 1396.
[ws_table id="10″]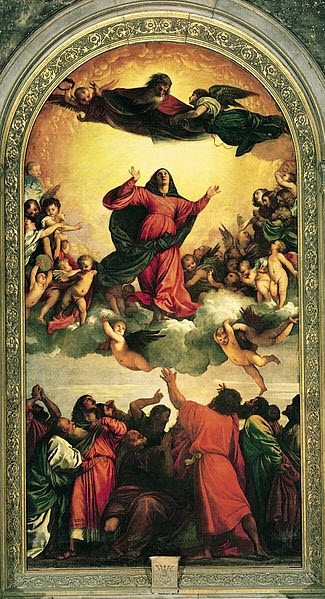 (very) Important art in church:
[ws_table id="13″]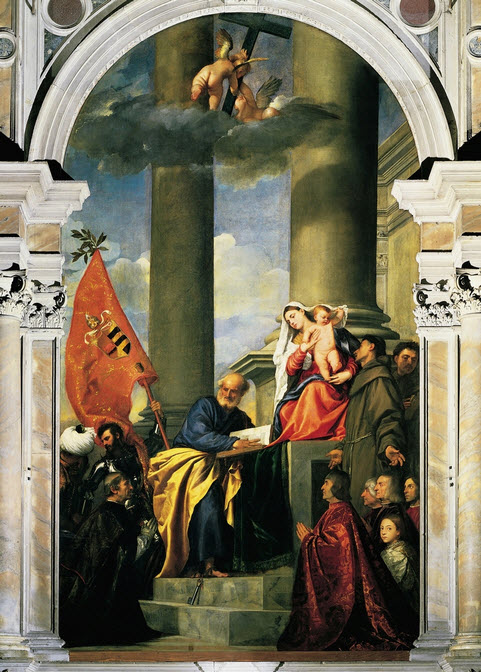 Church of San Zaccaria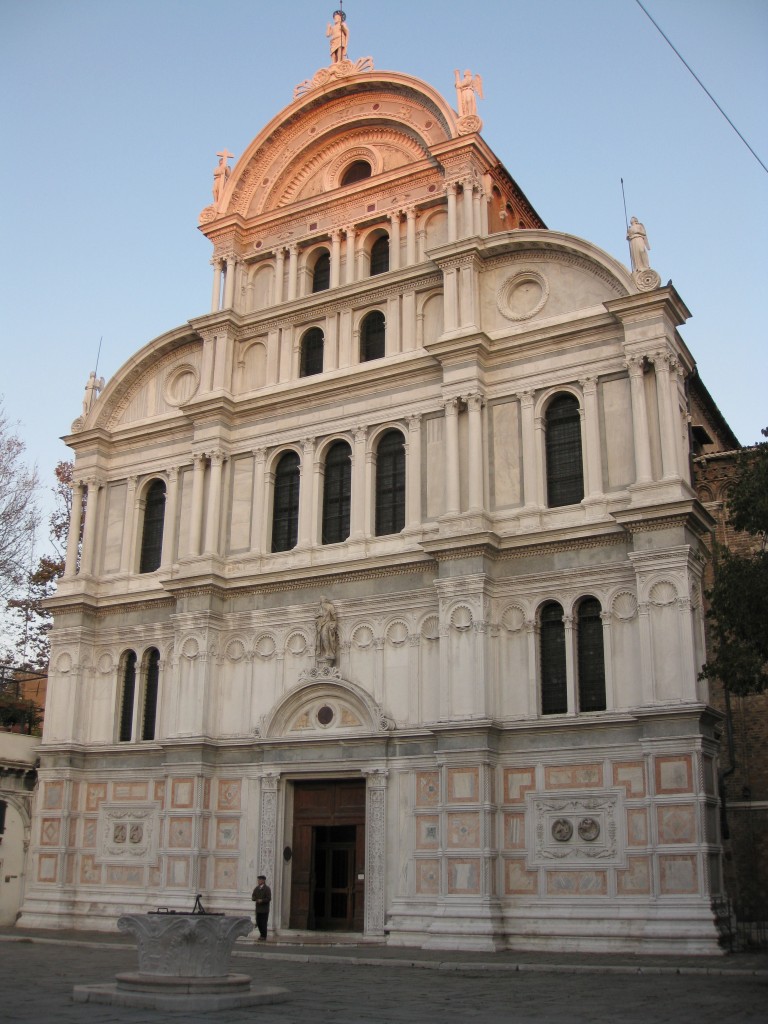 [ws_table id="14″]
San Zaccaria is a church in Venice, northern Italy, dedicated to St. Zacharias, the father of John the Baptist, whose body it supposedly contains. It is a large edifice, located in the quiet Campo San Zaccaria, just off the waterfront to the south east of St. Mark's basilica.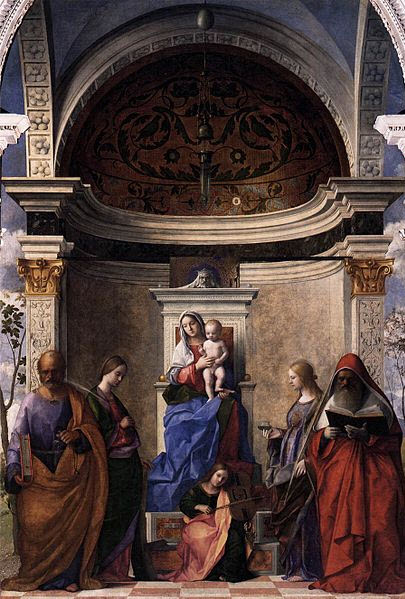 The present church was built in a mixture of Gothic and Renaissance styles between 1444 and 1515. Antonio Gambello was the original architect, who started the building in the Gothic style, but the upper part of the facade and the upper parts of the interior were completed by Mauro Codussi in early Renaissance style.
Two ohter great chuches:
both by the great:  Andrea Palladio
Architecture / Palaces
DOGE'S PALACE
The Doge's Palace (Italian: Palazzo Ducale) is a palace built in Venetian Gothic style, and one of the main landmarks of the city ofVenice, northern Italy. The palace was the residence of the Doge of Venice, the supreme authority of the Republic of Venice, opening as a museum in 1923. Today it is one of the 11 museums run by the Fondazione Musei Civici di Venezia. In 2010 it was visited by 1.358.186 people.
Rick Steves: "The Doge's Palace houset the fascinaiting government of this rich and powerful empire. It also served as the home for the Venetian ruler known as the doge (pronounced: "dohzh"), or duke. For four centuries (ca 1150-1550), this was the most powerful half-acre in Europe. The rest of Europe marveled at the way Venice could govern itself without a dominaint king, bishop, or tyrant. The doges wanted their palace to reflect the wealth and secular values of the Republic, impressing visitors and serving as a reminder that the Venetians were Number One in Europe."
[ws_table id="11″]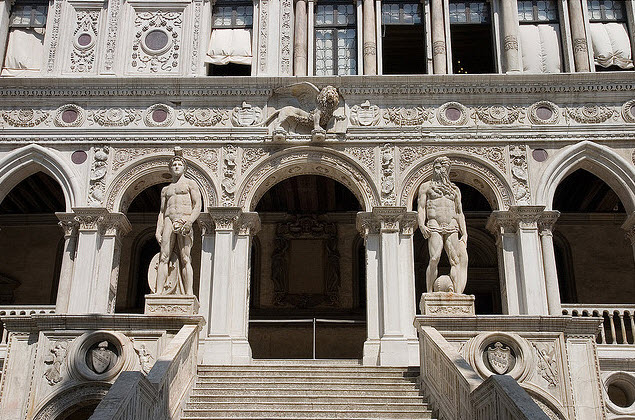 rooms & highlights
[ws_table id="12″]
Titoretto – Paradise (detail):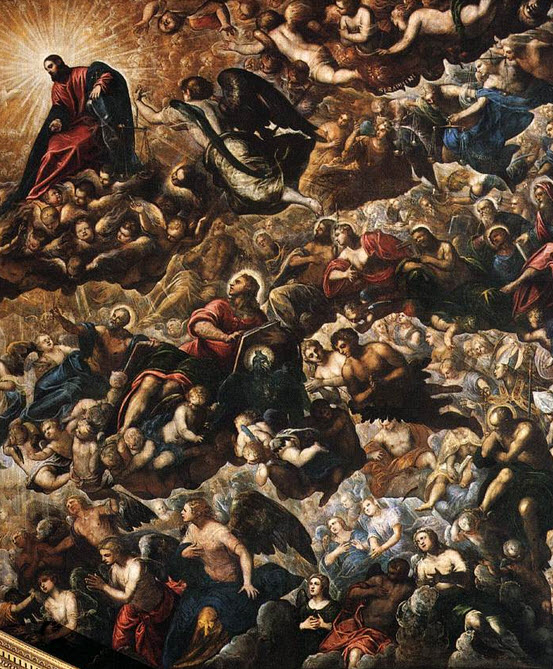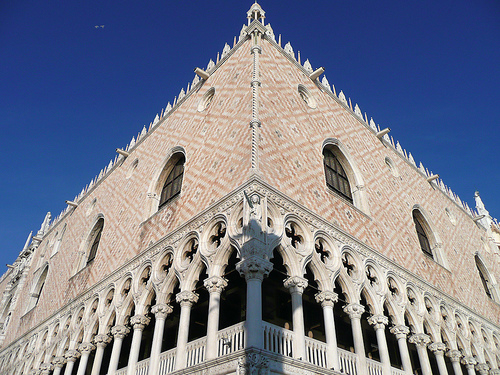 Scuola Grande di San Rocco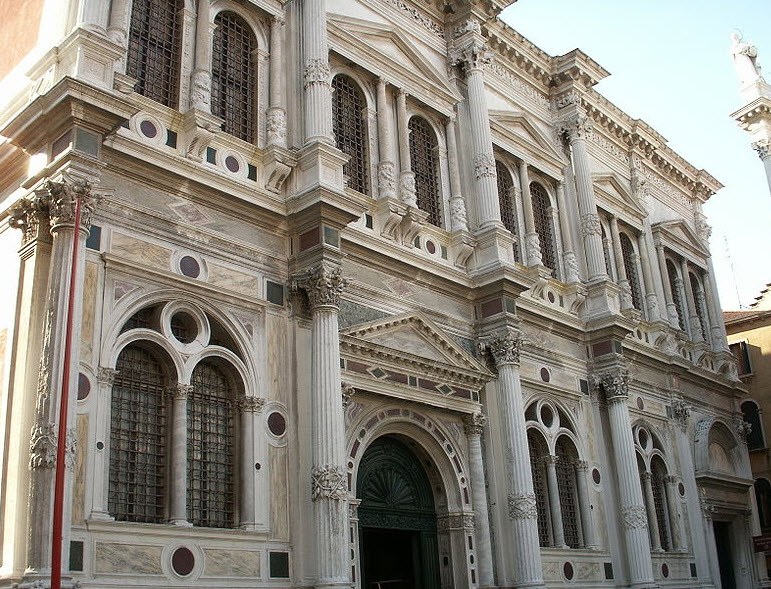 The Scuola di San Rocco ("Confraternity of St. Roch", protector against plague, which had struck Venice in that century) was established in 1478 by a group of wealthy Venetian citizens, next to the church of San Rocco, from which it takes its name.
[ws_table id="15″]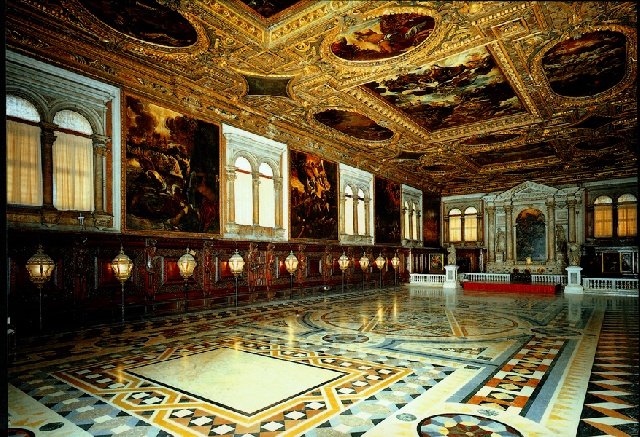 From Rick Steves: The 50-plus paintings in Scuola Grande di San Rocco – often called "Tintoretto's Sistine Chapel" – present one man's very personal vision of christian history. Tintoretto spend the last 20 years of his life working practically for free on these paintings. …. For Tintoretto fan's this is the ultimate.
ART
When people admitting their ignorance of art, say, "But I know what I like," they usually mean, "I like what I know."
– Rick Steves (in his book: "Europe 101: History & Art for the Traveler")
Artists Giovanni Bellini (1430-1516)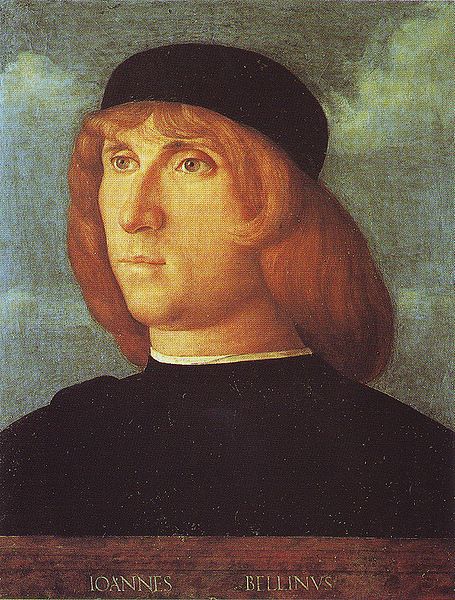 [ws_table id="3″]
Giovanni Bellini (c. 1430–1516) was an Italian Renaissance painter, probably the best known of the Bellini family of Venetian painters. His father was Jacopo Bellini, his brother was Gentile Bellini, and his brother-in-law was Andrea Mantegna. He is considered to have revolutionized Venetian painting, moving it towards a more sensuous and colouristic style. Through the use of clear, slow-drying oil paints, Giovanni created deep, rich tints and detailed shadings. His sumptuous coloring and fluent, atmospheric landscapes had a great effect on the Venetian painting school, especially on his pupils Giorgione and Titian.
Highlights in Venice:
The San Zaccaria Altarpiece (also called Madonna Enthroned with Child and Saints), executed in 1505 and located in the church of San Zaccaria, Venice.
Frari Triptych (1488) – Oil on panel Santa Maria Gloriosa dei Frari, Venice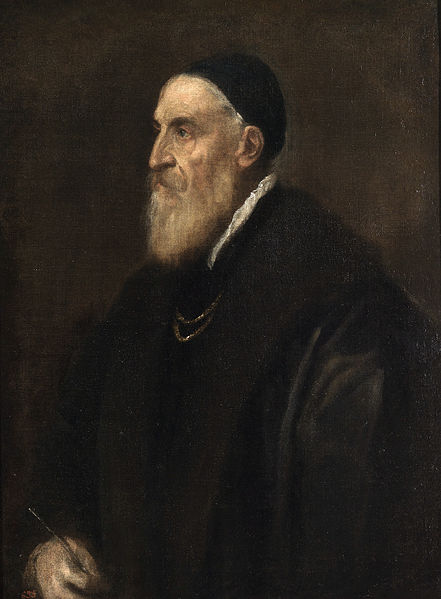 [ws_table id="4″]
Recognized by his contemporaries as "The Sun Amidst Small Stars" (recalling the famous final line of 
Dante's
Paradiso
), Titian was one of the most versatile of Italian painters, equally adept with portraits, landscape backgrounds, and mythological and religious subjects. His painting methods, particularly in the application and use of color, would exercise a profound influence not only on painters of the Italian Renaissance, but on future generations of 
Western art
. 
Tiziano Vecelli
 or 
Tiziano Vecellio
 (c. 1488/1490 – 27 August 1576) was an Italian painter, the most important member of the 16th-century 
Venetian school
. He was born in 
Pieve di Cadore
, near 
Belluno
 (in 
Veneto
), in the 
Republic of Venice
. During his lifetime he was often called 
da Cadore
, taken from the place of his birth.
Highlights in Venice:
Giorgione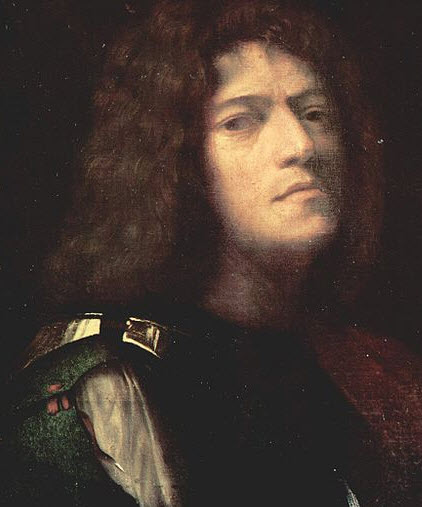 [ws_table id="5″]
Together with 
Titian
, who was slightly younger, he is the founder of the distinctive Venetian school of 
Italian Renaissance painting
, which achieves much of its effect through colour and mood, and is traditionally contrasted with the reliance on a more linear 
disegno
 of 
Florentine painting
. 
Giorgione
 (born 
Giorgio Barbarelli da Castelfranco
; c. 1477/8 – 1510) was a 
Venetian
 painter of the 
High Renaissance
 in 
Venice
, whose career was cut off by his death at a little over thirty. Giorgione is known for the elusive poetic quality of his work, though only about six surviving paintings are acknowledged for certain to be his work. The resulting uncertainty about the identity and meaning of his art has made Giorgione one of the most mysterious figures in European painting.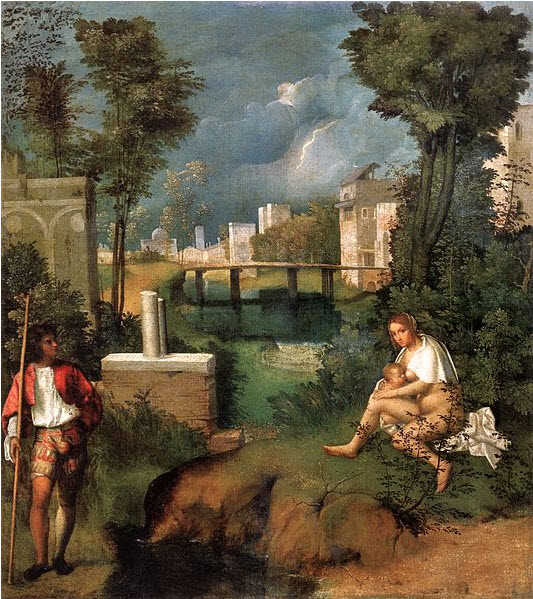 The Tempest
Paolo Veronese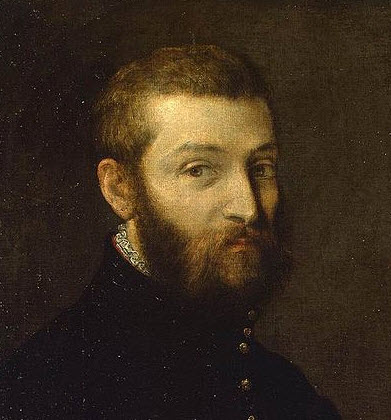 Paolo Veronese (1528 – 19 April 1588) was an Italian painter of the Renaissance in Venice, famous for paintings such as The Wedding at Cana and The Feast in the House of Levi. He adopted the name Paolo Cagliari or Paolo Caliari, and became known as "Veronese" from his birthplace in Verona.
Highlights in Venice;
Tintoretto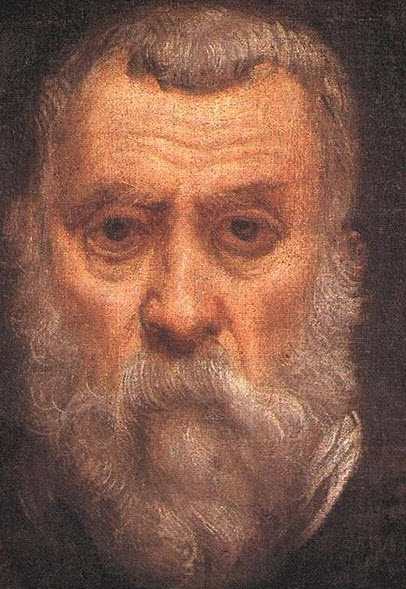 [ws_table id="6″]
Tintoretto  (September 29, 1518 – May 31, 1594), real name Jacopo Comin, was a Venetian painter and a notable exponent of the Renaissance school. For his phenomenal energy in painting he was termed Il Furioso. His work is characterized by its muscular figures, dramatic gestures and bold use of perspective in the Mannerist style, while maintaining color and light typical of the Venetian School. Highlights:
Paradise @ Doge's Palace (Hall of the grand council) – the largest oil painting in the world
different paintings in "Scuola San Rocco" – Great Hall
The Miracle of the Slave (also known as The Miracle of St. Mark, 1548) @ Gallerie dell'Accademia in Venice, northern Italy, it was originally commissioned for the Scuola Grande di San Marco, a confraternity in the city.