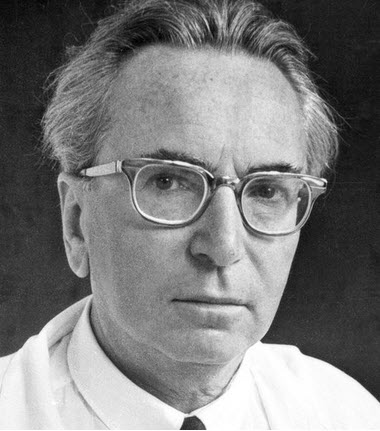 From Wikipedia:
Viktor Emil Frankl, M.D., Ph.D. (March 26, 1905, Leopoldstadt, Vienna – September 2, 1997, Vienna) was an Austrian neurologist and psychiatrist as well as a Holocaust survivor. Frankl was the founder of logotherapy, which is a form of existential Analysis, the "Third Viennese School of Psychotherapy". His best-selling book, Man's Search for Meaning (published under a different title in 1959: From Death-Camp to Existentialism, and originally published in 1946 as Trotzdem Ja Zum Leben Sagen: Ein Psychologe erlebt das Konzentrationslager), chronicles his experiences as a concentration camp inmate which led him to discover the importance of finding meaning in all forms of existence, even the most sordid ones, and thus a reason to continue living. Frankl became one of the key figures in existential therapy and a prominent source of inspiration for humanistic psychologists.
—
Man's Search for Meaning is a 1946 book by Viktor Frankl chronicling his experiences as a concentration camp inmate and describing his psychotherapeutic method of finding a reason to live. According to Frankl, the book intends to answer the question "How was everyday life in a concentration camp reflected in the mind of the average prisoner?" Part One constitutes Frankl's analysis of his experiences in the concentration camps, while Part Two introduces his ideas of meaning and his theory of logotherapy. It is the second-most widely read Holocaust book in the bookstore of the United States Holocaust Memorial Museum.
According to a survey conducted by the Book-of-the-Month Club and the Library of Congress, Man's Search For Meaning belongs to a list of "the ten most influential books in the United States." At the time of the author's death in 1997, the book had sold over 10 million copies and had been translated into 24 languages.
——
Quotes:
"When we are no longer able to change a situation, we are challenged to change ourselves." ― Viktor E. Frankl, Man's Search for Meaning

"Everything can be taken from a man but one thing: the last of the human freedoms—to choose one's attitude in any given set of circumstances, to choose one's own way." ― Viktor E. Frankl, Man's Search for Meaning

"But there was no need to be ashamed of tears, for tears bore witness that a man had the greatest of courage, the courage to suffer." ― Viktor E. Frankl, Man's Search for Meaning

"Don't aim at success. The more you aim at it and make it a target, the more you are going to miss it. For success, like happiness, cannot be pursued; it must ensue, and it only does so as the unintended side effect of one's personal dedication to a cause greater than oneself or as the by-product of one's surrender to a person other than oneself. Happiness must happen, and the same holds for success: you have to let it happen by not caring about it. I want you to listen to what your conscience commands you to do and go on to carry it out to the best of your knowledge. Then you will live to see that in the long-run—in the long-run, I say!—success will follow you precisely because you had forgotten to think about it" ― Viktor E. Frankl, Man's Search for Meaning

"Life is never made unbearable by circumstances, but only by lack of meaning and purpose."

"For the first time in my life I saw the truth as it is set into song by so many poets, proclaimed as the final wisdom by so many thinkers. The truth – that Love is the ultimate and highest goal to which man can aspire. Then I grasped the meaning of the greatest secret that human poetry and human thought and belief have to impart: The salvation of man is through love and in love." ― Viktor E. Frankl, Man's Search for Meaning

"Between stimulus and response, there is a space. In that space is our power to choose our response. In our response lies our growth and our freedom." ― Viktor E. Frankl, Man's Search for Meaning

"The attempt to develop a sense of humor and to see things in a humorous light is some kind of a trick learned while mastering the art of living."