This year´s family summer vacation is Croatia – Split/Trogir area.
We will first be staying close to the city of Trogir just north of Split and later in Okrug Gornji.
This post i part of my planning process & maybe other Croatia travellers will find useful information.
–
Intro
Overview map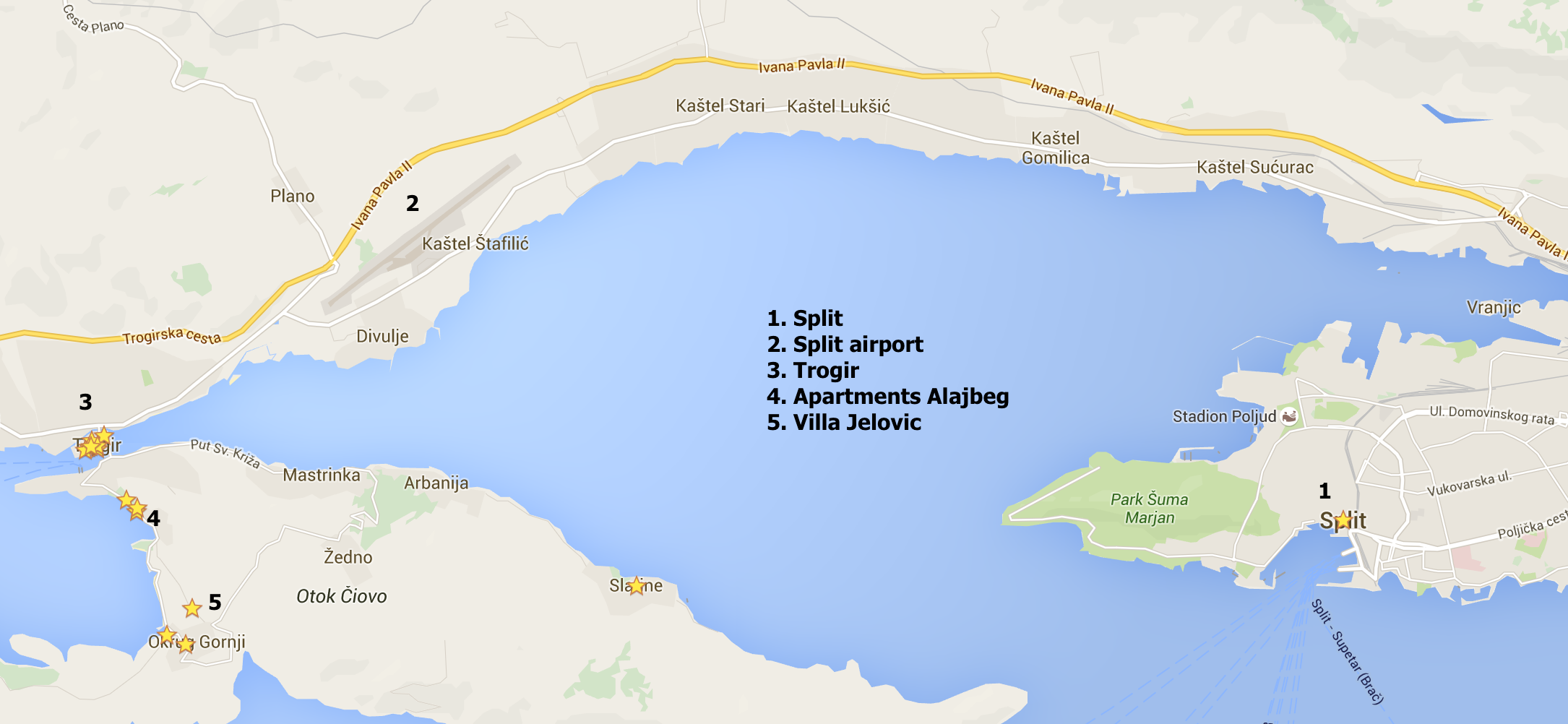 Split airport
Split Airport (IATA: SPU, ICAO: LDSP), also known as Resnik Airport (Zračna luka Resnik), is the international airport serving the city of Split, Croatia. It is located 24 km (15 mi) from Split, on the west side of Kaštela Bay, in the town of Kaštela, and extending into the adjacent town of Trogir.
The Airport follows Zagreb Airport in 2015 as the second busiest airport in Croatia handling 1,955,400 passengers that year. It is an important hub for Croatia Airlines offering flights to European cities, such as Athens, Frankfurt, London, Paris and many others.


Airport taxi service
Many to choose from, we chose this one:

48 Euro for bringing 12 people from airport to Hotel in Trogir, I´ll say that´s a fair deal.
–
Trogir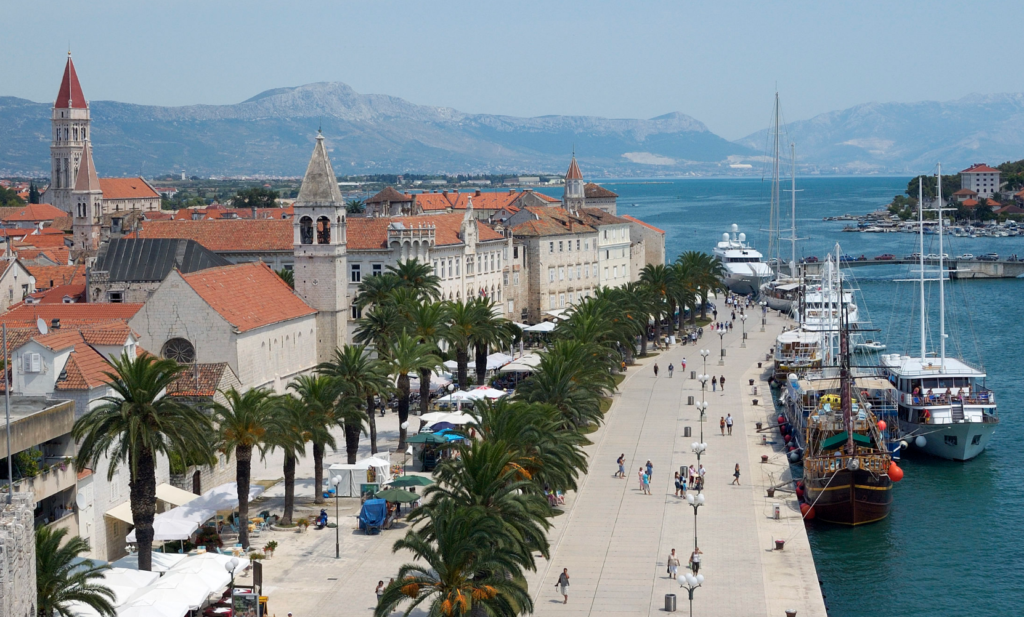 But Trogir isn´t for museum-going, it´s for aimless strolling. And the best place for that is along the wide, beautifully manicured harborfront promenade along the southern edge of town (Obala bana Berislavića). Lined with expensive restaurants, and clogged with giddy, ice-cream-licking-tourists, this promenade is the highlight of a visit to Trogir.
-Rick Steves (Rick Steves Croatia & Slovenia)
Trogir is a historic town and harbour on the Adriatic coast in Split-Dalmatia County, Croatia, with a population of 10,818 (2011) and a total municipality population of 13,260 (2011). The historic city of Trogir is situated on a small island between the Croatian mainland and the island of Čiovo. It lies 27 kilometres (17 miles) west of the city of Split.
Since 1997, the historic centre of Trogir has been included in the UNESCO list of World Heritage Sites.
Trogir is the best-preserved Romanesque-Gothic complex not only in the Adriatic, but in all of Central Europe. Trogir's medieval core, surrounded by walls, comprises a preserved castle and tower and a series of dwellings and palaces from the Romanesque, Gothic, Renaissance and Baroque periods. Trogir's grandest building is the church of St. Lawrence, whose main west portal is a masterpiece by Radovan, and the most significant work of the Romanesque-Gothic style in Croatia.
The most important sites include:
Trogir Cathedral
The Cathedral of St. Lawrence is a Roman Catholic triple-naved basilica constructed in Romanesque-Gothic in Trogir, Croatia. Since its construction lasted several centuries, it illustrates all the styles that succeeded one another in Dalmatia. It serves now as the most imposing monument in the city of Trogir.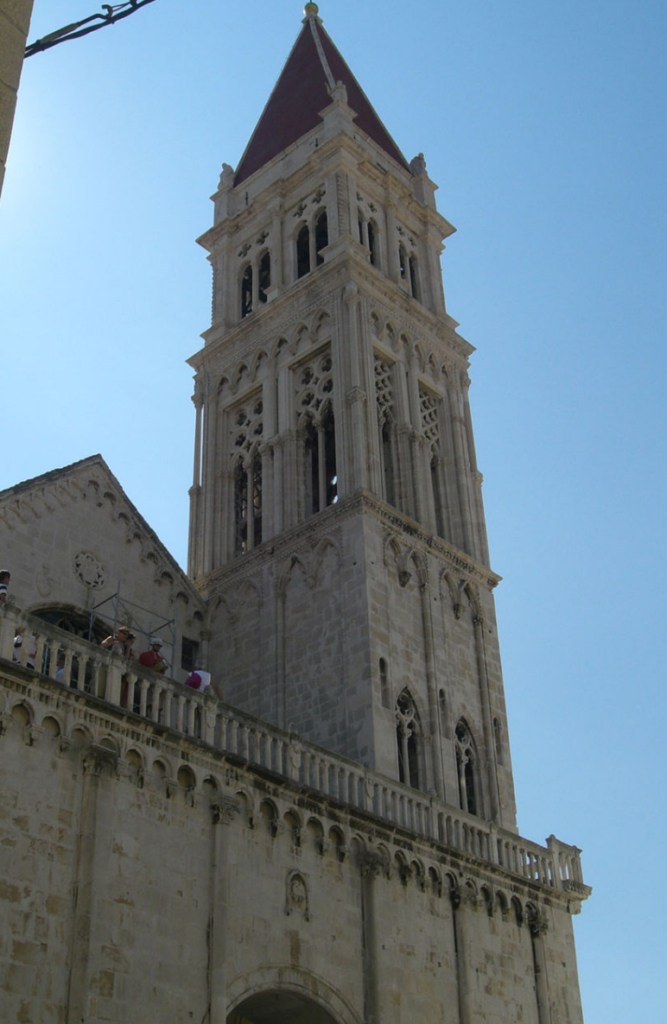 The local architect and sculptor Master Radovan worked on the cathedral's gateway (main west portal) early in its construction. Most of the portal was carved by the master himself, but some other hands are distinguishable, those of his pupils and followers. Finished and signed in 1240, it is a monumental and perhaps unique work of this great Croatian artist, of whom the inscription on the base of the lunette says: "the best of all in this artisanship".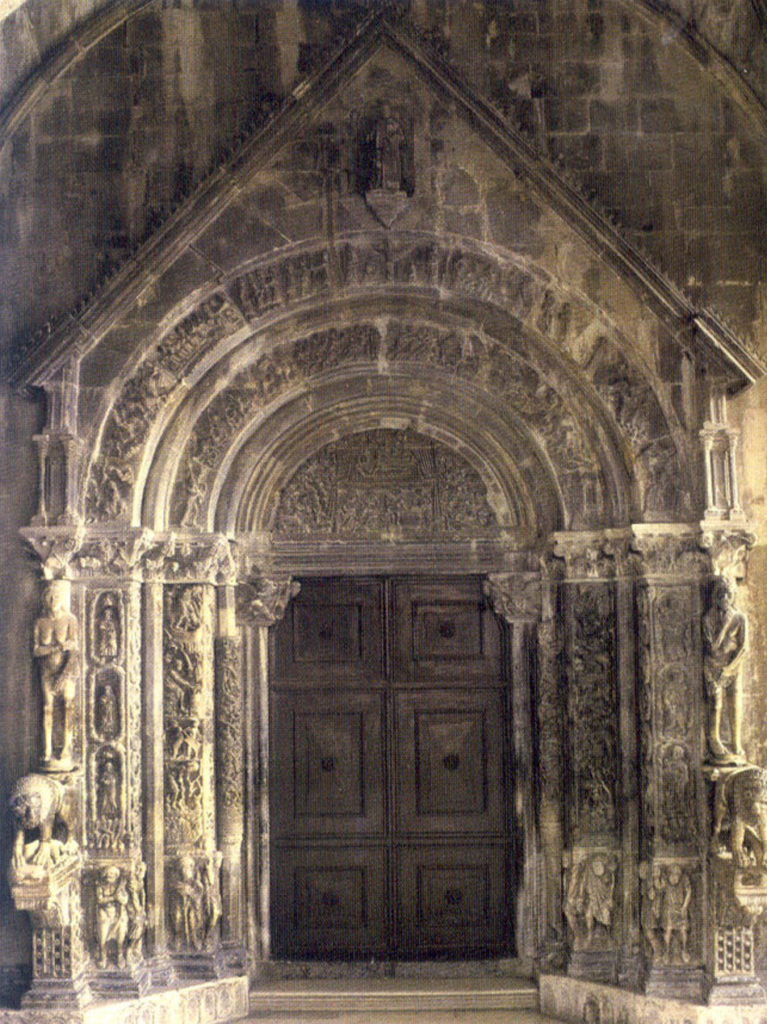 –
Monastery of St Dominic (filming location for "Game of Thrones" – City of Quarth)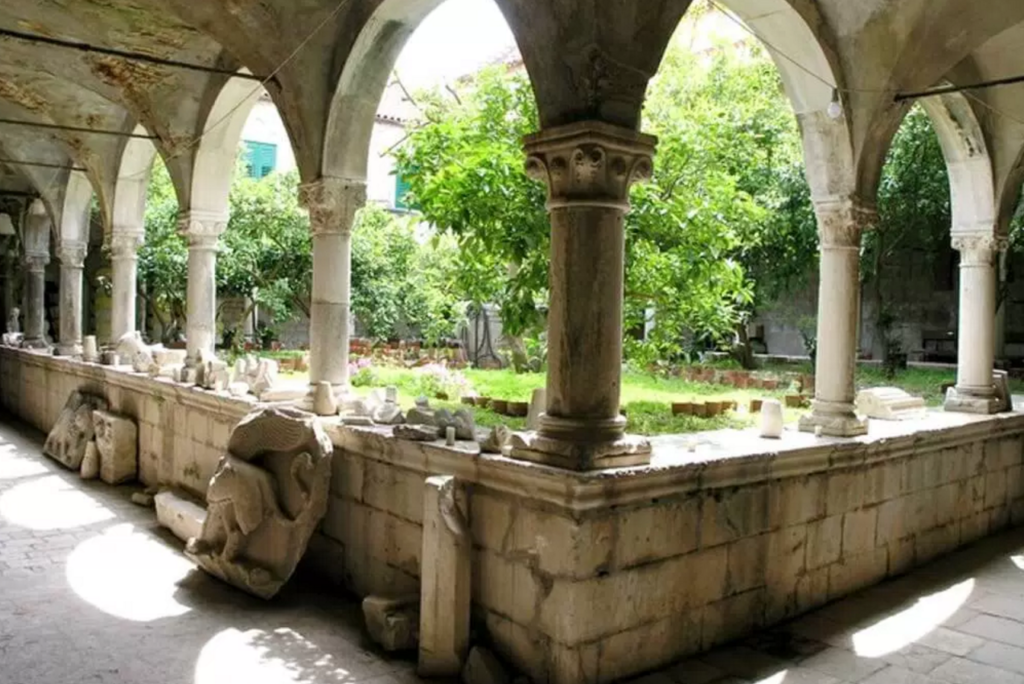 Nice video introducing Trogir:

Kristian Pizza (2/76 – tripadvisor)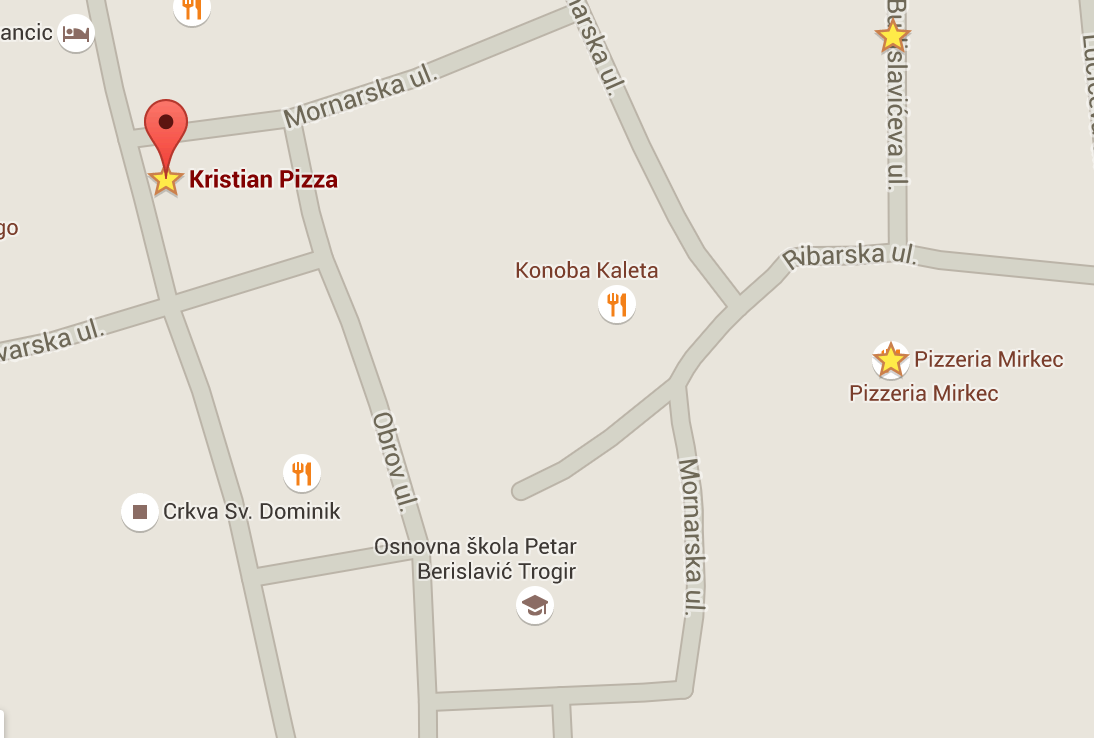 Pizzeria Mirkec (6/76 – tripadvisor)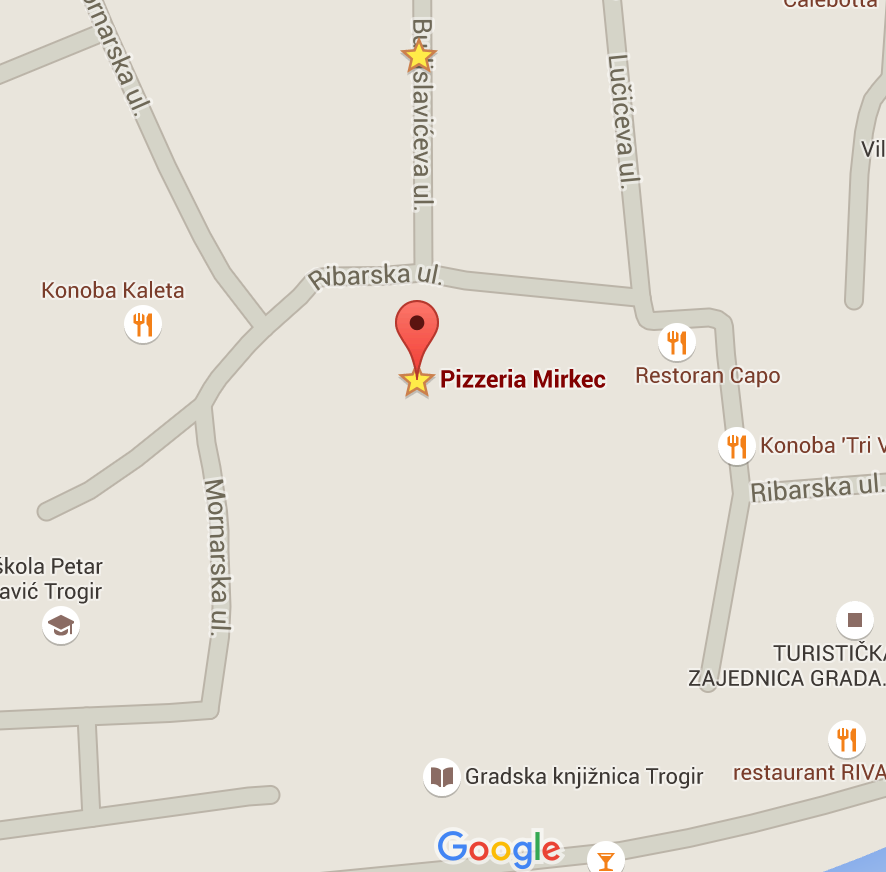 Piccolo Ponte (7/76)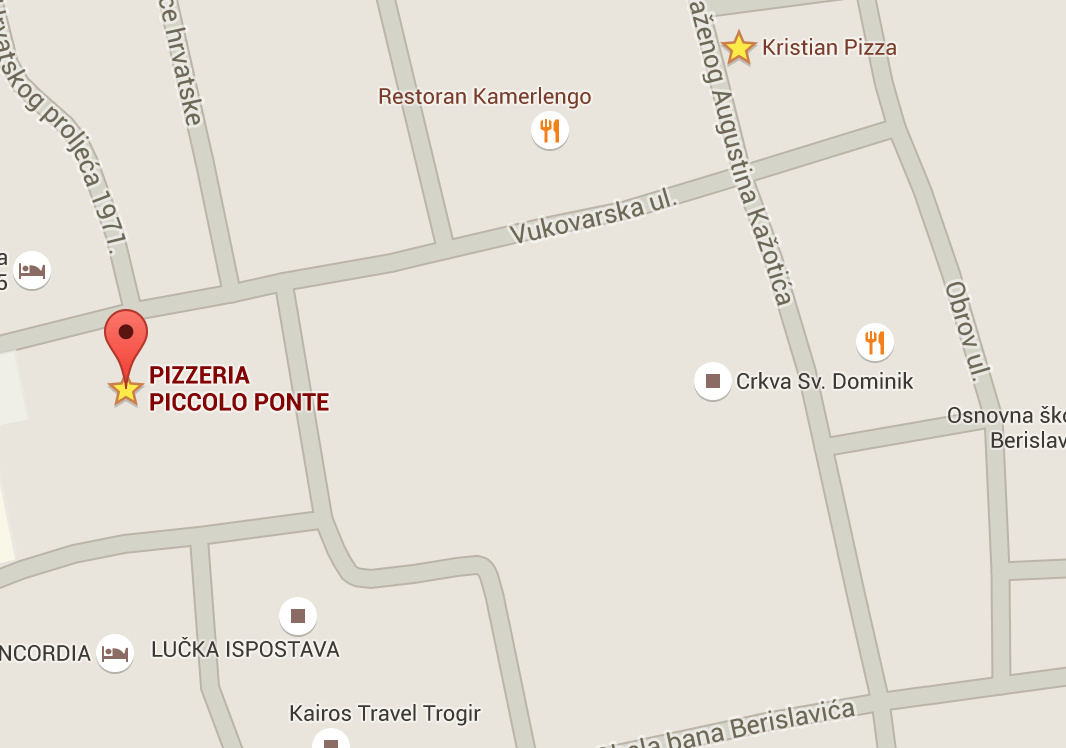 Kamerlengo (8/76) – grilled seafood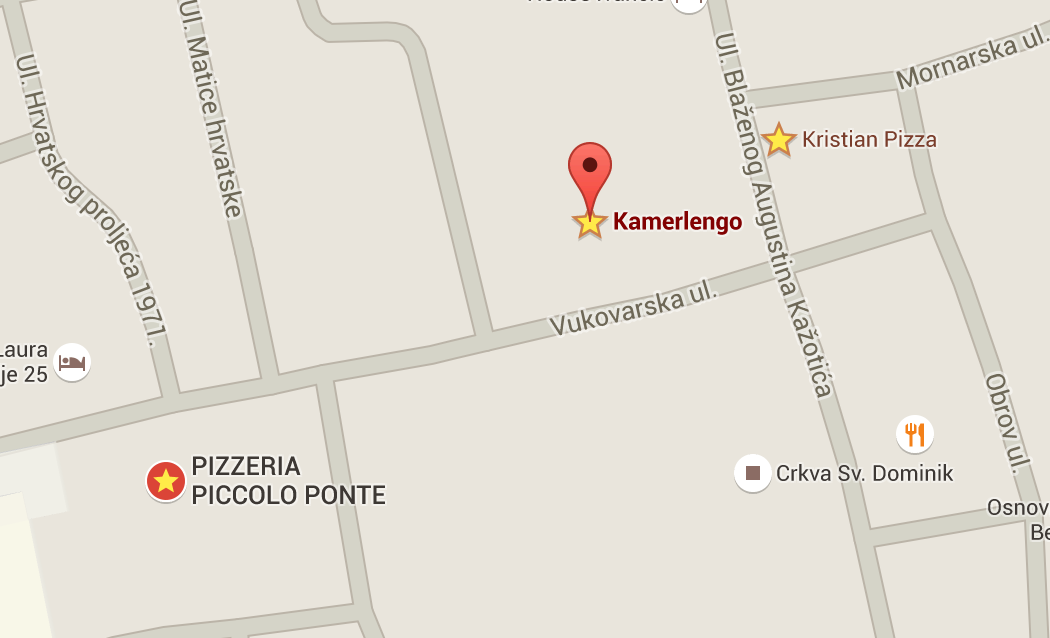 Toma (11/76)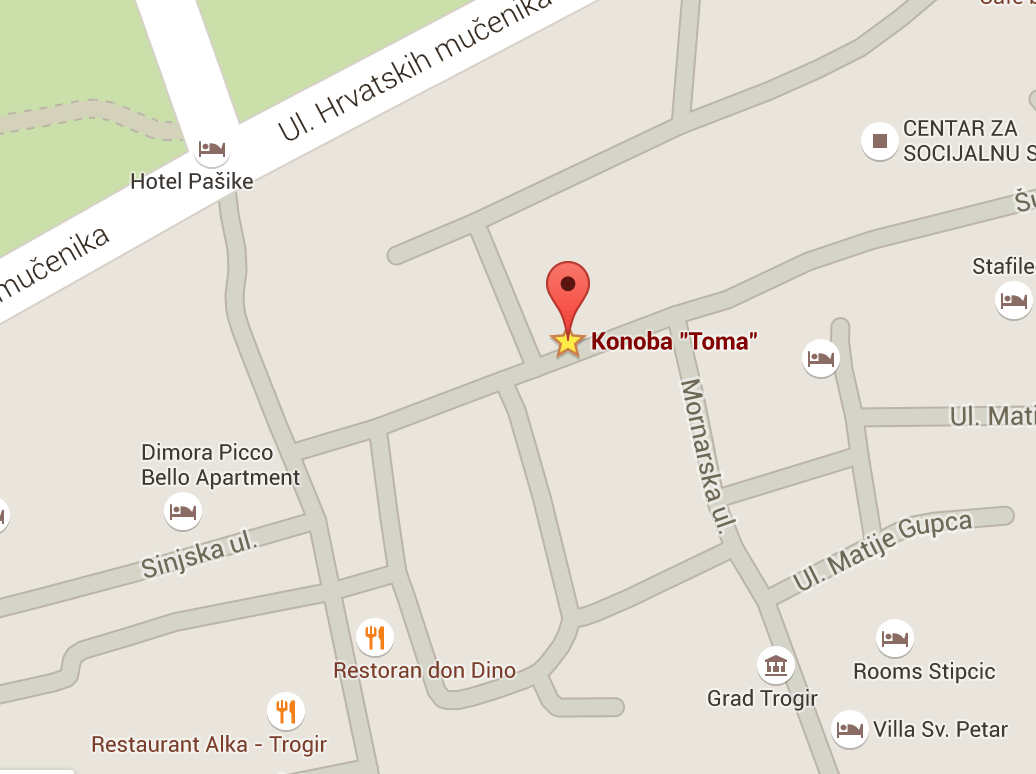 Restaurant Royal (15/76)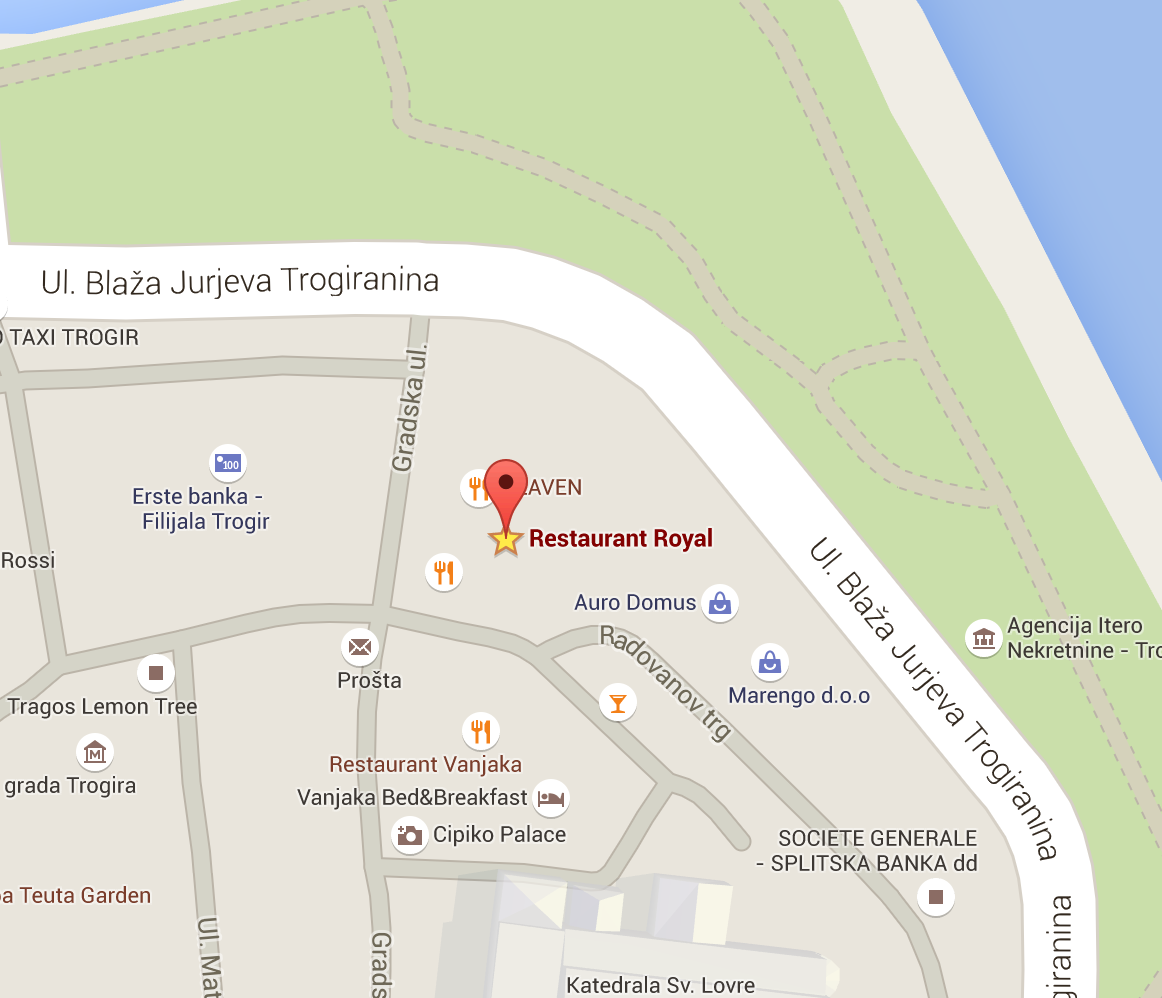 –
Places to eat – Okrug Gornji
Mali Raj (1/19 – tripadvisor)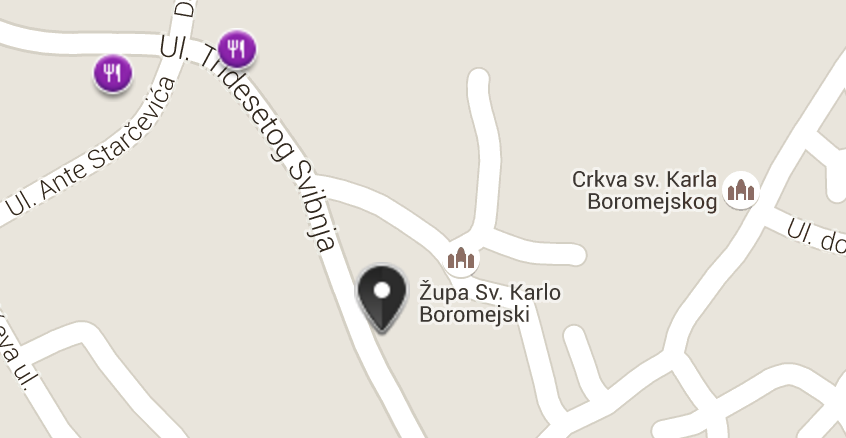 Srdela (3/19)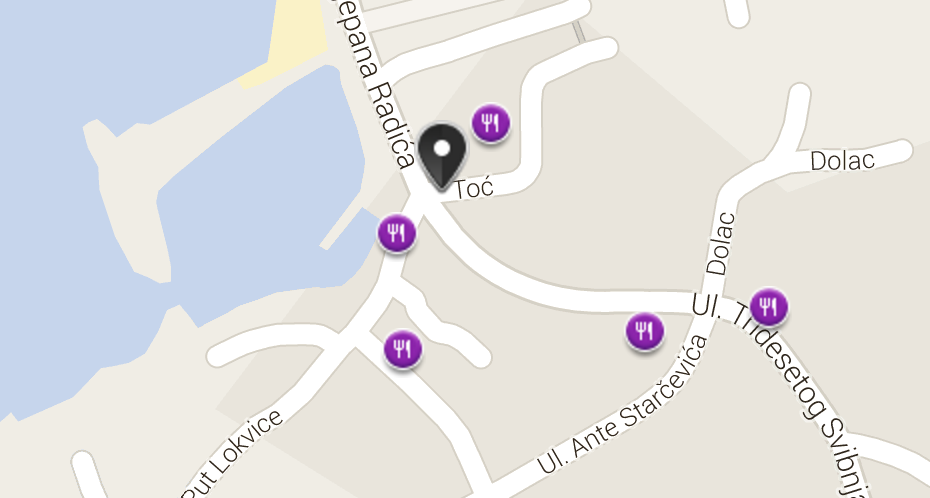 Leonardo (5/19)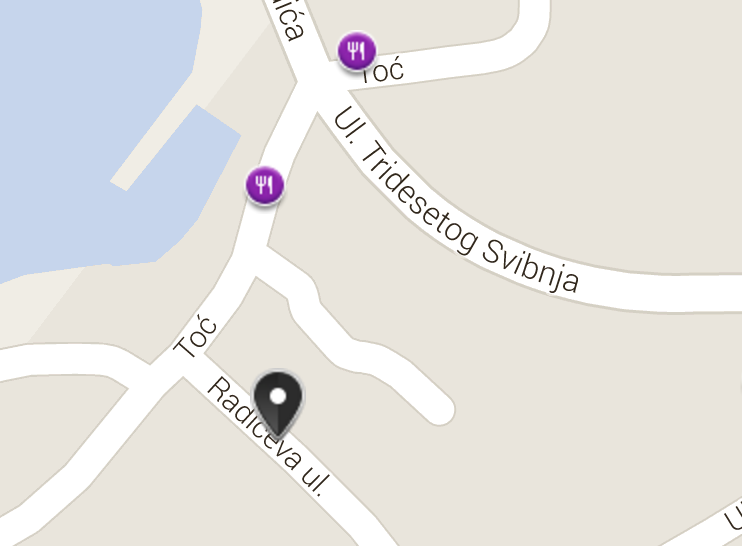 Bistro Toc (6/19)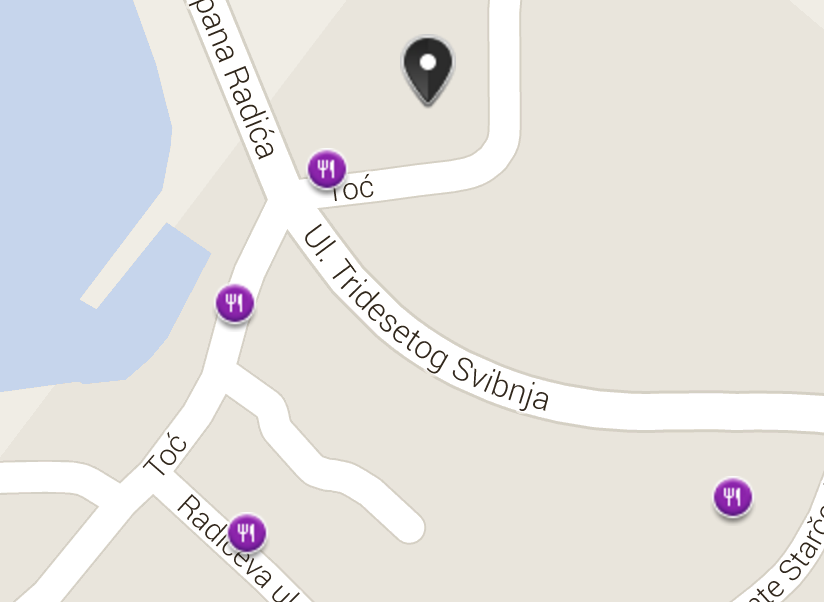 Supermarkets (food & wine)
Trogir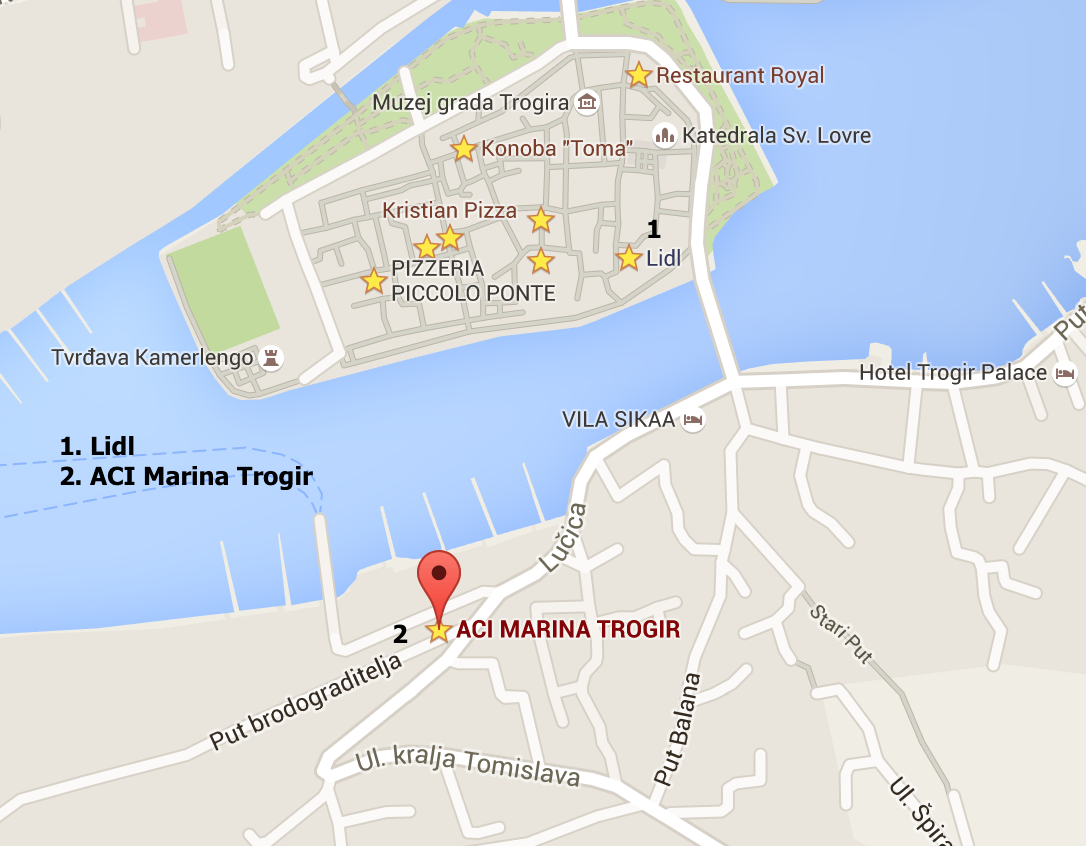 Okrug Gornji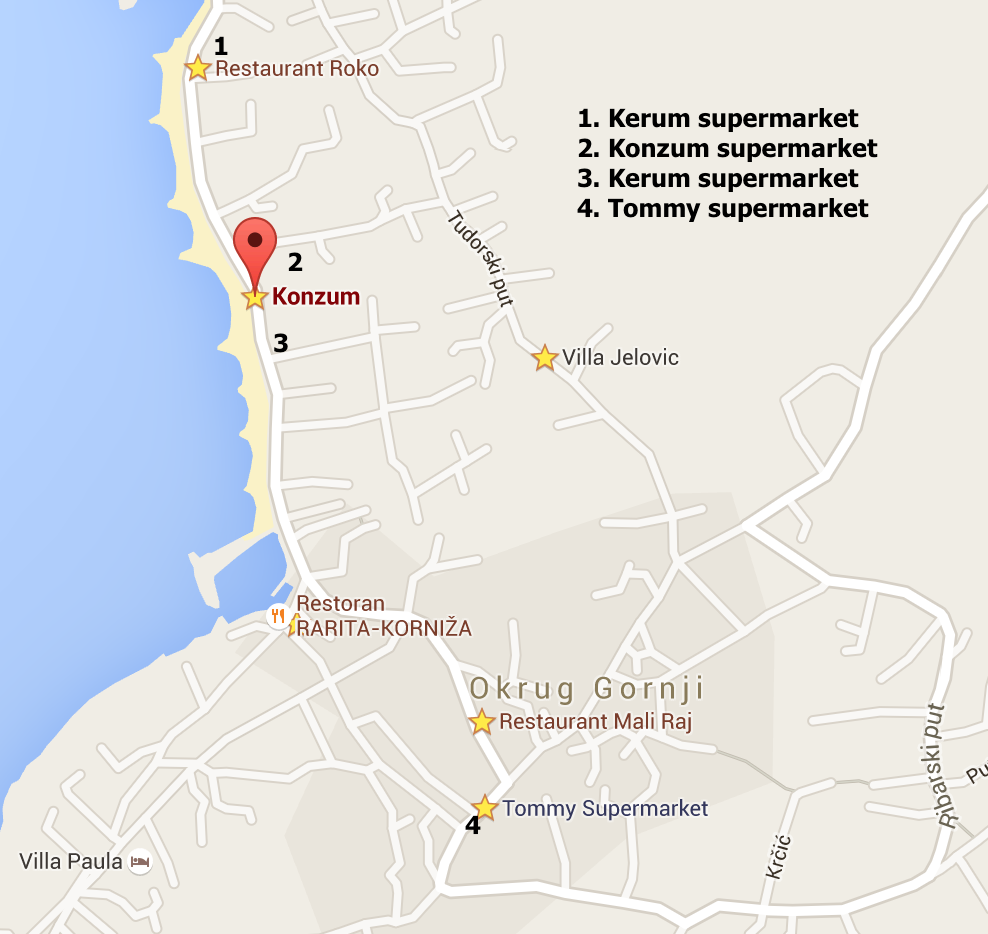 –
Split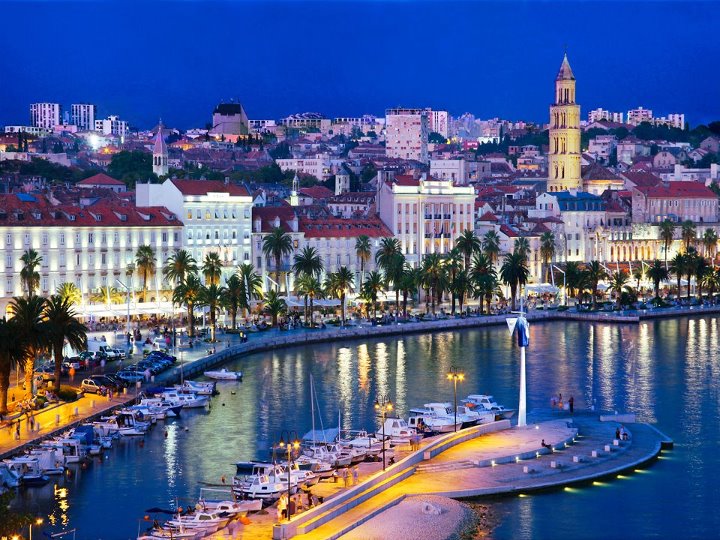 While most Dalmatian coastal towns seem made for tourists. Split is real and vibrant – a shipbuilding city with ugly sprawl surrounding an atmospheric Old Town, which teems with Croatians living life to the fullest.
-Rick Steves (Rick Steves Croatia & Slovenia)
Rick Steves video introducing Split:

Split is the second-largest city of Croatia and the largest city of the region of Dalmatia. It lies on the eastern shore of the Adriatic Sea, centered on the Roman Palace of the Emperor Diocletian. Spread over a central peninsula and its surroundings, Split's greater area includes the neighboring seaside towns as well. An intraregional transport hub and popular tourist destination, the city is a link to numerous Adriatic islands and the Apennine peninsula.
Split´s top activity is visiting the remains of Roman Emperor Diocletian´s enormous retirement palace, which sits on the harbor in the heart of the city.
-Rick Steves (Rick Steves Croatia & Slovenia)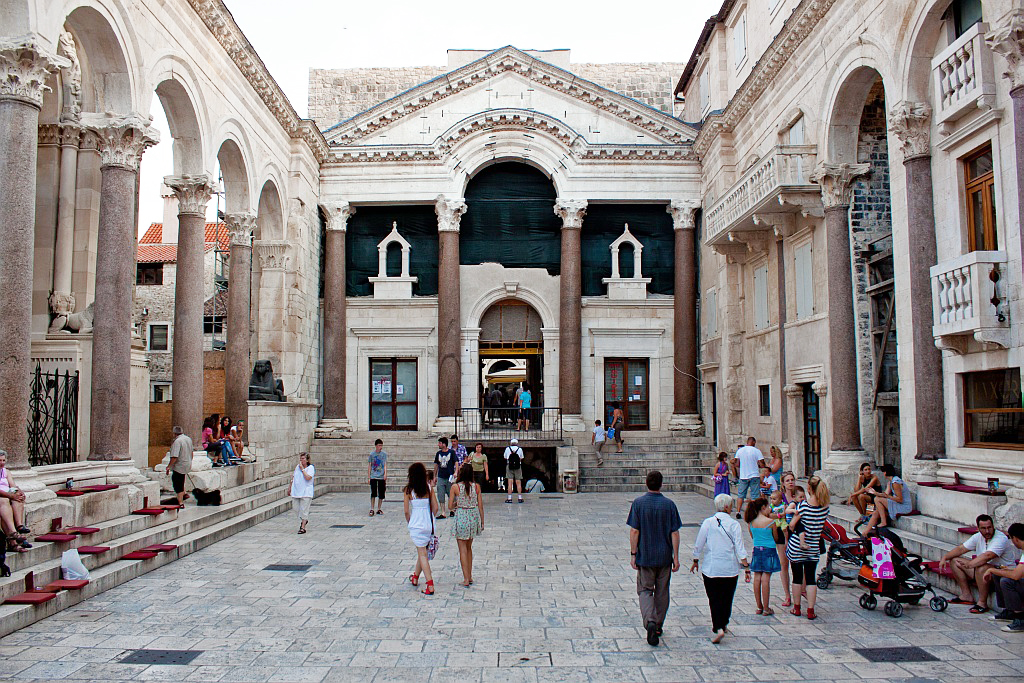 Diocletian's Palace is an ancient palace built by the Roman emperor Diocletian at the turn of the fourth century AD, that today forms about half the old town and city center of Split, in Croatia. While it is referred to as a "palace" because of its intended use as the retirement residence of Diocletian, the term can be misleading as the structure is massive and more resembles a large fortress: about half of it was for Diocletian's personal use, and the rest housed the military garrison.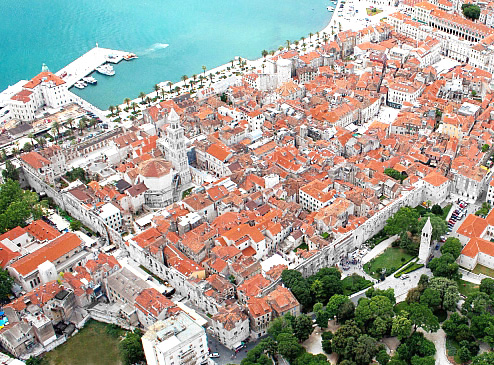 Sidenote – Diocletian's Palace was used as a location for filming the fourth season of the HBO series Game of Thrones.
–
Dubrovnik
Visit Dubrovnik from Trogir
Trogir Travel Agency -> Dubrovnik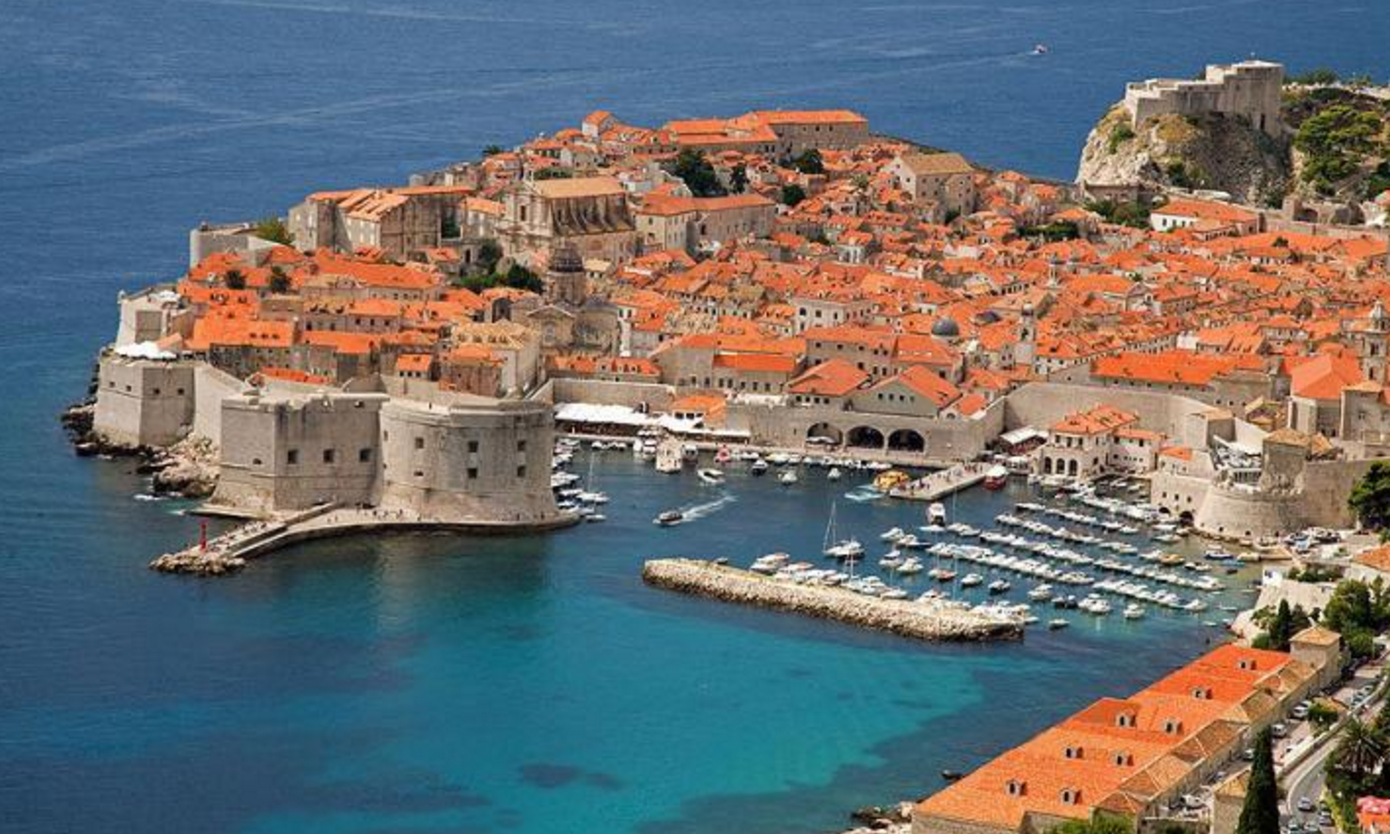 Beaches near Trogir
Beach in Okrug Gornji
The best known and most popular beach in Trogir Riviera is certainly the beach in Okrug Gornji. Only 3 km from the historic town of Trogir on the south side of Ciovo Island stretches over 2 km long beautiful pebble beach known as "Okrug Copacabana ". A large selection of pizzerias, restaurants, cafes and bars with different rhythms of the music captures the true experience of Brazil.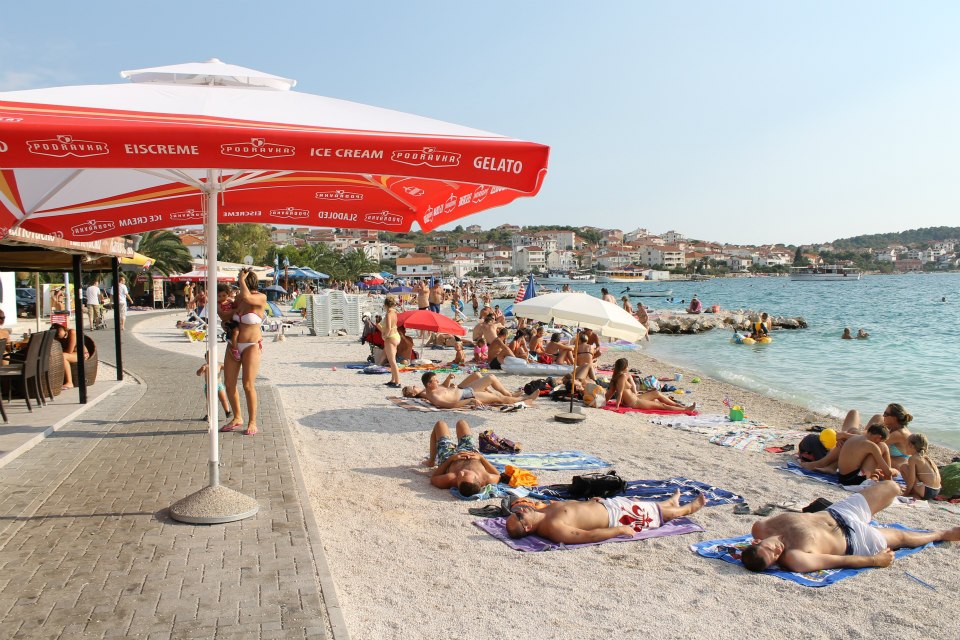 –
Kava Slatine
At the eastern corner of the island Ciovo, slightly ahead of the old fishing village Slatine (4 km) and very close to Split Marjan hill, across the sea, there is a beach called Kava. The largest beach is among the many small beaches of the Slatine bay, which delight the unspoiled nature of pine forests and crystal sea. The beautiful sandy beach is recommended for all who wish to relax in the shade of pine trees and enjoy the silence that disturbs only the murmur of the sea, away from noise. On the beach there is only one café with a selection of drinks and fast food.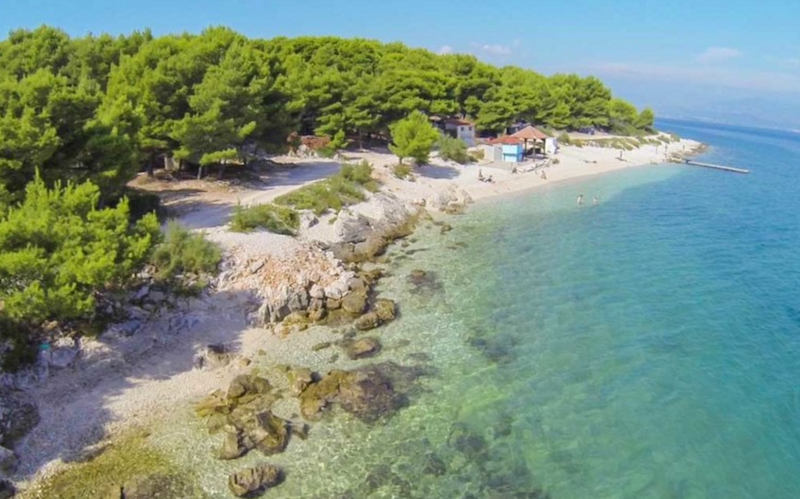 Map – 2 first beaches: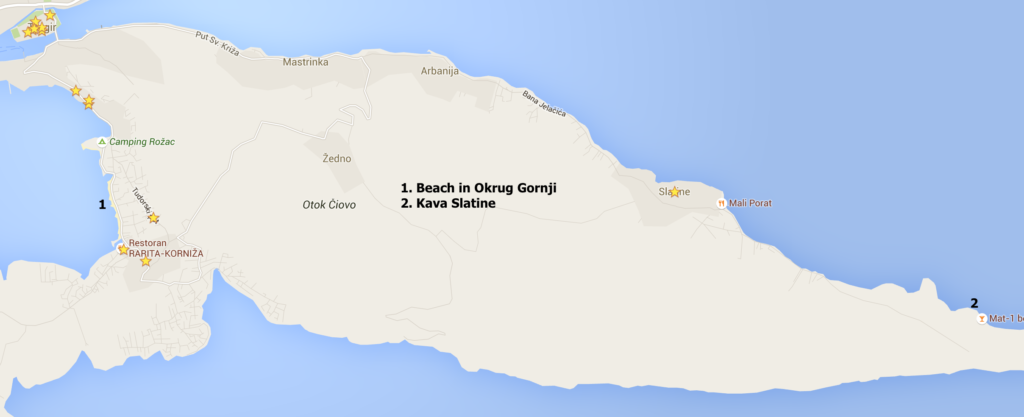 –
Krknjaši – The Blue Lagoon
One of the unspoiled natural beauty of our area is Krknjasi lagoon on the east coast of the island Drvenik. On the outside, the bay is protected with islands, large and small Krknjaši. A beautiful pebble beaches and shallow sandy seabed is a true tropical paradise of our sea. Along the coast are small coves with sandy shoals that provide intimacy and are suitable for families with small children. On Krknjaši is a cult Dalmatian tavern, "The Communists" with an excellent selection of fresh seafood and authentic Dalmatian dishes. The coast is easily accessible by boat, you can rent in Trogir.
The Zlatni Rat, often referred to as the Golden Cape or Golden Horn, is a spit of land located about 2 kilometres (1 mile) west from the harbour town of Bol on the southern coast of the Croatian island of Brač, in the region of Dalmatia. It extends into the Hvar Channel, a body of water in the Adriatic Sea between the islands of Brač and Hvar, which is home to strong currents. The landform itself is mostly composed of a white pebble beach, with a Mediterranean pine grove taking up the remainder.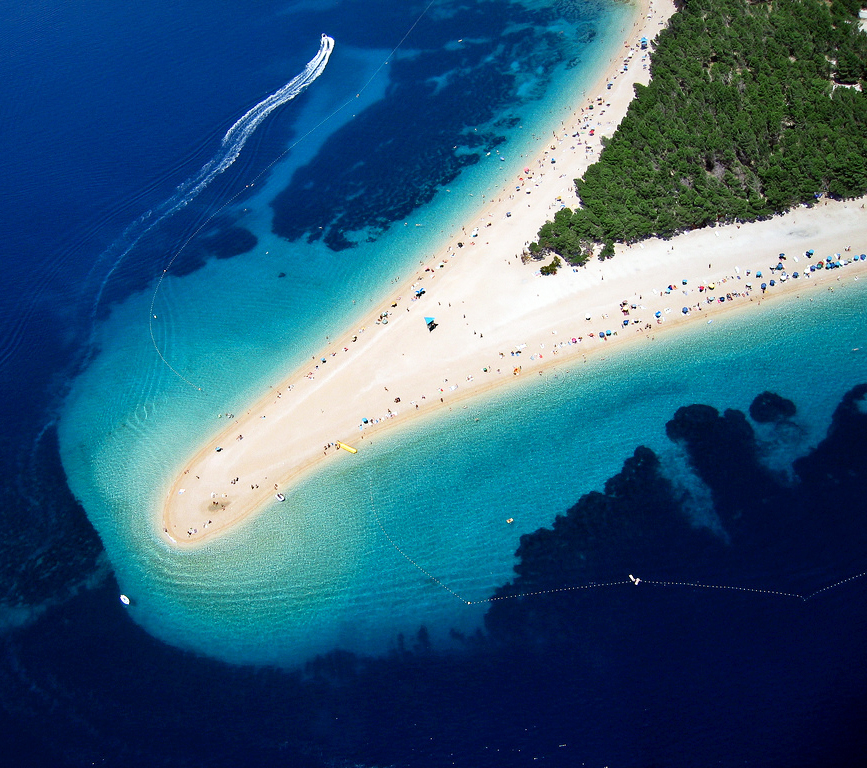 Map beaches: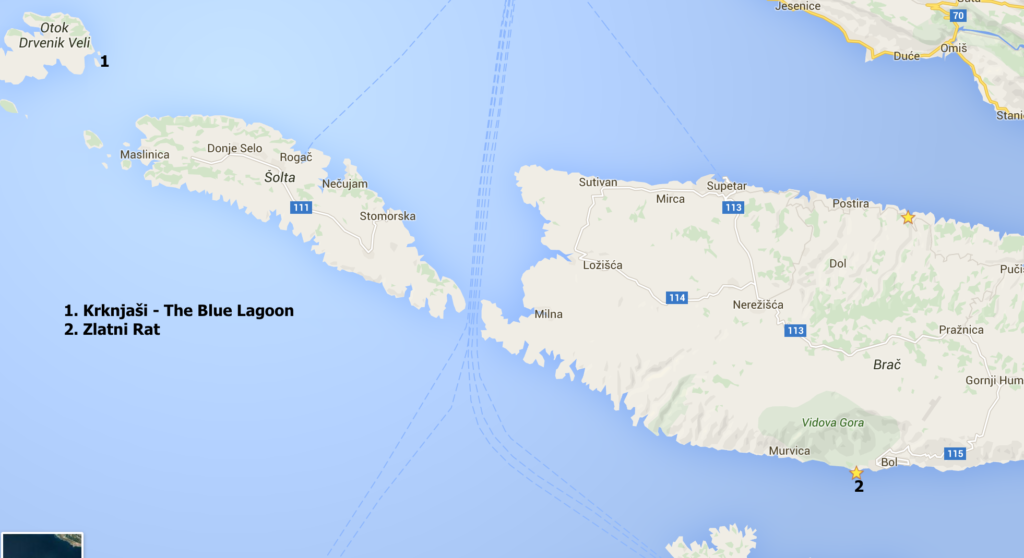 –
Boat trips
Much too choose from, here are some of the highlights (for families)
Hvar and Pakleni islands boat excursion
-> Providenca Charter and Travel
| | |
| --- | --- |
| 08:00 | Deparature from Trogir |
| 08:30 | Deparature from Split |
| 10:00 – 13:00 | Visiting town Bol and swimming at beach Zlatni rat |
| 14:00 – 16:00 | Visiting town Hvar and free time for lunch |
| 16:15 – 17:15 | Swimming in Pakleni islands |
| 18:45 | Return to Split |
| 19:15 | Return to Trogir |
–
Hvar and Pakleni islands boat excursion
-> Providenca Charter and Travel
| | |
| --- | --- |
| 08:30 | Deparature from Trogir |
| 09:00 | Deparature from Split |
| 10:15 – 10:45 | Coffee stop in bay Milna on Brač island |
| 12:00 – 15:00 | Sightseeing and enjoying in town Hvar, free time for lunch |
| 15:30 – 17:30 | Time for swimming at Pakleni islands |
| 18:30 | Return to Split |
| 19:00 | Return to Trogir |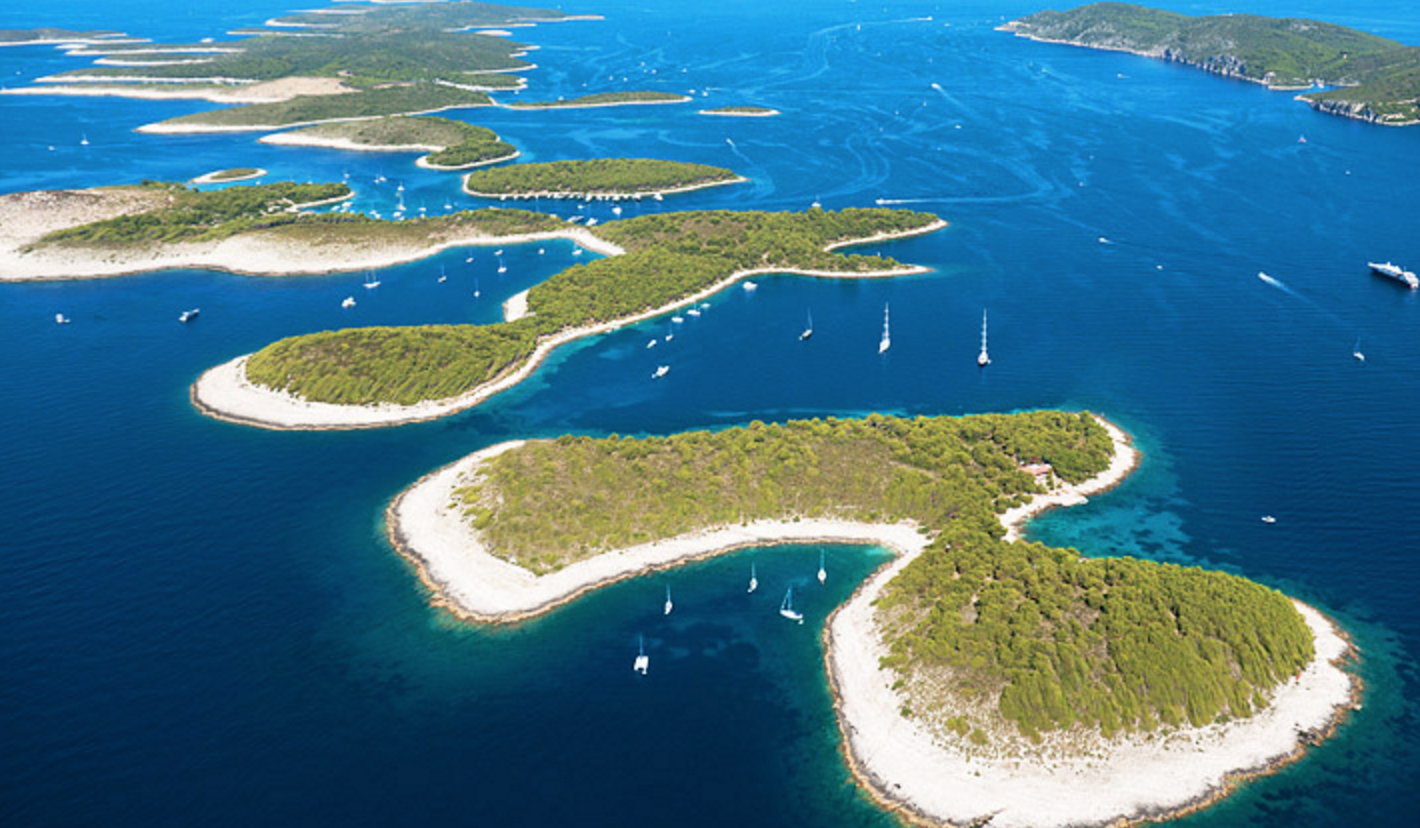 Map – Islands & Beaches: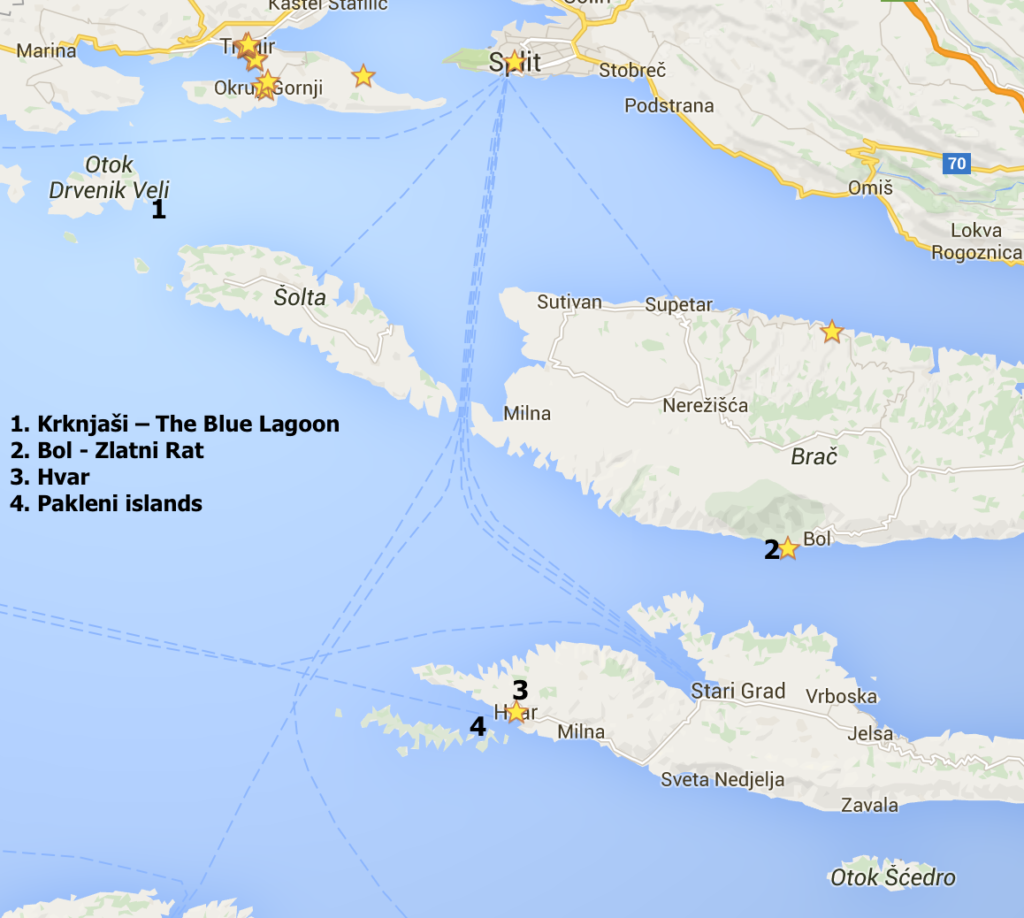 –
Krka National Park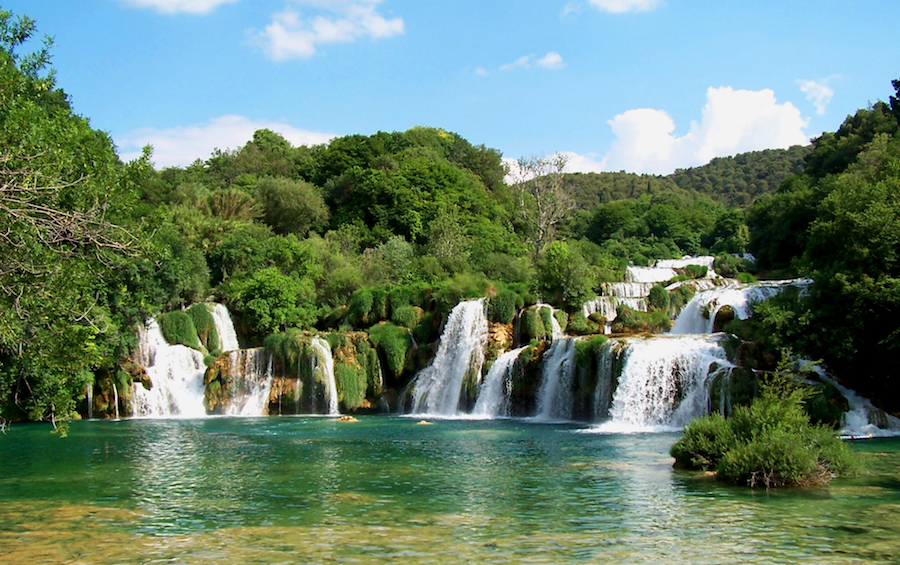 An hour north of Split is the glittering canyon of Krka National Park. This sprawling park – where the Krka River spreads out and splits into many fingers cut deep into the parched limestone, with shimmering blue waters and forested walls – could occupy a nature lover for days.
-Rick Steves (Rick Steves Croatia & Slovenia)
Krka National Park (Croatian: Nacionalni park Krka) is one of the Croatian national parks, named after the river Krka that it encloses. It is located along the middle-lower course of the Krka River in central Dalmatia, in Šibenik-Knin county, downstream Miljevci area, and just a few kilometers northeast of the city of Šibenik. It was formed to protect the Krka River and is intended primarily for scientific, cultural, educational, recreational, and tourism activities. It is the seventh national park in Croatia and was proclaimed a national park in 1985.

How to get there
Sources
-Egil